Crowns Can Improve Your Child's Smile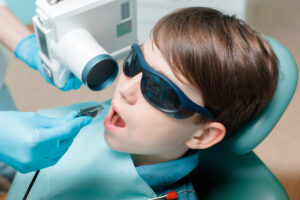 A dental crown is a more substantial restoration, and one we use when issues arise too serious to be addressed with a dental filling alone. In today's blog, your Dallas, TX, pediatric dentist talks about how our crowns can help improve the function and health of your child's smile, and how we place them.
The Complete Restoration
The crown is a complete restoration that covers the entirety of a tooth's visible portion, all of the structure above the gum line. This enables the restoration to address a number of restorative issues. We will create them from a variety of materials. For the side and rear teeth, which endure greater bite forces, we could opt for stainless steel. For the more front facing and visible teeth, we could use a white material that better blends with the smile, but is still strong and durable, known as NuSmile zirconia.
When Little Smiles Need Repair
We could place a crown to repair cracks or chips, or to lengthen teeth worn down by grinding and clenching. Placement could improve bite balance and also bite function, easing discomfort and helping your child eat easier. The restoration could also help address tooth decay too severe for a filling, or act as the last step of a pulpotomy procedure to address dental infection. We also use them to address misshapen teeth that impact bite balance and smile esthetics too.
Creating and Placing Them
To create and place them, we begin with a thorough exam to see if a restoration is necessary. If so, then our team will administer a numbing agent around the tooth in question. We could also offer dental sedation to help your child enter a more calm and relaxed state. Next, we remove structure from the tooth to make room for it. We then attach the stainless steel or zirconia one with a powerful bonding agent. This secures the restoration for years to come. We can also discuss actions to help safeguard the new repair and protect natural teeth too.
If you have any questions about how we treat restorative and cosmetic issues with a dental crown, or if you would like to schedule your child's next checkup and cleaning visit, then please contact our team today. We look forward to hearing from you!
Your Dallas, TX, Pediatric Dentist Repairs Little Smiles
We would like to use a dental crown to offer better oral health for children. If you would like to learn more about how we repair teeth in little smiles, then contact your Dallas, TX pediatric dentist, Dr. Marr, by calling (214) 321-4880. Whether your child has minor or extensive oral health concerns, we're ready to help transform their smile!

filed under: Restorations for Kids