Making Sure Your Child Brushes And Flosses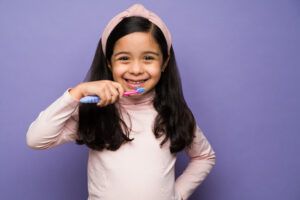 Daily care helps kids of all ages, from babies and toddlers all the up to your tweens and teens! Which is why knowing how to properly brush and floss is so beneficial. In today's blog, your Dallas, TX, pediatric dentist talks about how to make sure your child is properly brushing and flossing their teeth each and every day.
Caring for Little Smiles
Everyone needs to brush their teeth twice a day, in the morning and then again at night right before bed. Each session should take about two minutes, and a fluoride toothpaste is recommended. Fluoride helps strengthen the outer enamel to reduce cavity risk, and kids three and younger can use a rice-size blot, and kids over the age of three can use a pea-sized amount. Make sure every surface is being reached! Flossing is also important as soon as teeth sit side-by-side. Young children may be able to handle a pick easier than tape, but eventually they can upgrade to tape. Be sure to run the floss up and down each side of every tooth, dipping below the gum line when you do. This helps remove what a toothbrush cannot reach, and safeguards kids against gingivitis and tooth decay, as well as bad breath and teeth stains.
Helping Them Along the Way
For babies, you can brush for them using a bit of cloth or possibly a special toothbrush that fits over your finger. As they enter the toddler years, you can continue to do this for them. Once their dexterity improves enough to take on brushing and flossing alone, you can keep an eye on them while they do, or brush and floss alongside them so they have an example. To help time them, you can find fun songs and videos, or use a sand timer too.
Checkups and Cleanings
These actions help control plaque buildup, which grows over time and without removal, could weaken outer enamel to cause cavities, or inflame gum tissues to cause gingivitis. To remove all the buildup, your little one needs a dental cleaning, in which we use an ultrasonic scaling device and manual tool to gently and thoroughly break up all plaque and tartar to safeguard their smiles. We also examine teeth to identify areas of concern, addressing them before they threaten a smile's stability. If you have any questions about how we treat serious oral health concerns and protect little smiles, then contact our team today to learn more.
Talk to Our Team Today!
We want to make sure daily care is available to help protect your child's teeth and gums. If you have any questions about caring for your little one's teeth, then contact your Dallas, TX pediatric dentist, Dr. Marr, by calling (214) 321-4880.

filed under: Children's Dental Services