Repairing Your Child's Broken Tooth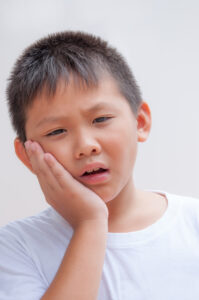 When your child breaks or cracks a tooth, even if this damage appears quite minimal, treatment could still be necessary. We have lifelike dental crowns, such as a dental crown, to repair the damage and improve your child's oral health. In today's blog, your Dallas, TX, pediatric dentist talks about repairing broken teeth in little smiles!
Addressing Injured Teeth
When your child cracks or chips a tooth, see if you can recover any pieces of it. If so, bring them to the office with you. If not, don't worry, repair is still possible. Use a bit of cloth or gauze to stem any bleeding, and offer your child a cold compress to ease facial swelling. They can take an age-appropriate pain reliever too. Give us a call, even outside of normal business hours, and we will arrange for a time to see your little one. Once you arrive, we can examine the tooth and assess what kind of treatment is needed.
Treatment with a Dental Crown
Treating an injured tooth is critical because the damage could expose the sensitive inner portions of tooth structure to bacteria, a complication linked to tooth decay and dental infection. For most cases, we can address the damage with a crown. We first administer a local numbing agent to keep your kid comfortable. We can also discuss sedation if your little one has anxiety or special needs that make undergoing treatment difficult.
We then remove structure from the tooth to make room for the restoration. We have two materials available, stainless steel and NuSmile zirconia. Both are durable and effective, but the zirconia ones are white and blend better with the smile. We attach this with a powerful bonding agent, which allows the restoration to stay in place for years to come!
Keeping Teeth Strong and Safe
To help protect teeth from injury, be sure your little one wears a mouthguard when playing sports or martial arts. Good oral hygiene habits help prevent tooth decay to keep the teeth stronger and more resistant to injury, so be sure your little one brushes and flosses daily. Don't let them chew on ice, or pens and pencils, as this could damage teeth. Finally, be sure to see us every six months for checkups and cleanings, so we can monitor their smiles and help your children enjoy good oral health.
If you have any questions about how we repair a child's tooth, then contact our team today.
Ready to Treat Your Kid's Injured Tooth
Our team is ready to help your kid in the event of an injured tooth. If you have any questions about restoring health, function and beauty to your child's smile, then contact your Dallas, TX pediatric dentist, Dr. Marr, by calling (214) 321-4880.

filed under: Restorations for Kids