The Importance Of Your Child's Checkup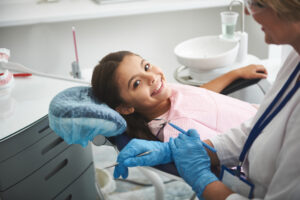 Your dentist recommends a checkup visit every six months, and so do we! Children benefit from a visit twice a year for checkups and cleanings, which helps us monitor smiles and treat problems before they cause discomfort. In today's blog, your Dallas, TX, pediatric dentist talks about the importance of your child's checkup appointment.
The First Visit
You may be surprised to find out how early the first visit to the dentist should be for a child. We recommend an appointment at around age one, once the first baby tooth has erupted. The visit doesn't involve treatment, the dentist just wants to get to know your child and make sure teeth are erupting as they should. At age two, the regular six-month checkup and cleaning appointment will begin.
Six-Month Checkups
Every six months, we would like to examine your child's smile. The exam includes a visual exam, and also the use of advanced digital imaging to take a close look at the teeth, gums, and oral structures. This lets us assess the risk of misalignment and bite imbalance, and also make sure baby teeth fall out on schedule and that permanent teeth erupt as they should. We also watch for the earliest warning signs of tooth decay, treating cavities before they pose a risk to the stability of the smile. For older kids, also look for signs of gingivitis.
During the same visit we clean the teeth too. A dental cleaning involves gently removing all plaque and tartar from the teeth with an ultrasonic scaling device. Plaque and tartar accumulate over time and without removal, could increase the risk of cavities and infection, as well as bad breath, teeth stains, and gingivitis. A cleaning helps us protect the smile.
Fluoride and Dental Sealants
As part pf these six-month appointments, our team could also prescribe preventive procedures to help lower the overall risk of tooth decay. During each exam can we apply a special fluoride gel to the teeth, a process that only takes a few minutes and helps strengthen the outer enamel, lowering the risk of tooth decay. We could also prescribe dental sealants. These are acrylic coatings that cover the rear teeth and prevent food from becoming caught in them. They stay in place for up to ten years in some cases, and help prevent cavities from forming in the teeth that are hard for kids to reach when brushing and flossing.
If you have any questions, then give us a call today!
Your Dallas, TX, Pediatric Dentist Offers Better Oral Health
We would like to help kids of all ages protect their oral health. If you would like to learn more about our preventive visits, then contact your Dallas, TX pediatric dentist, Dr. Marr, by calling (214) 321-4880.

filed under: Children's Dental Services