Dental Fillings Can Preserve Your Child's Tooth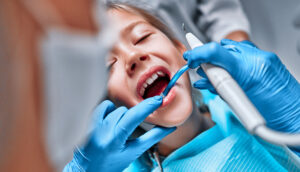 When we prescribe a dental filling for a child, we want to prevent cavities from causing infections or premature tooth loss. When your little one has a toothache, you should bring him or her in for an exam and treatment! In today's blog, your Dallas, TX, pediatric dentist talks about preserving smiles with dental fillings.
The Warning Signs of Tooth Decay
If you bring your child in to see us every six months, then we will be able to identify cavities in the earliest stages of demineralization, when the enamel is wearing down but before your child experiences pain. Otherwise, you may not know your child needs a restoration until he or she begins to complain about tooth sensitivity or a toothache. At this stage, the decay has reached a more advanced state and treatment is crucial to avoid infection or even the premature loss of a baby tooth, a major factor in the onset of dental misalignment.
Creating Metal-Free Dental Fillings
When you bring your little one to see us, we will examine the teeth thoroughly and assess the cause and extent of their tooth decay. For many, we will treat the issue with a dental filling. This restoration doesn't need metal, instead we use a blend of glass-like and acrylic particles known as composite resin. This is durable and long-lasting, but can also be shaded to blend with the tooth, offering a more lifelike repair. We first administer a numbing agent and then gently remove all decay. We clean the tooth and apply the composite resin in several layers. We shape the tooth as this material cures under a light. The last step is to polish the tooth thoroughly for a brighter appearance. In one visit, this stops the decay and brings relief from aches and sensitivity.
Protecting Smiles
To help lower the risk of future cavities, we urge you to ring your child in for a checkup and cleaning every six months. We can examine the smile to watch for signs of trouble, and use a cleaning to remove all buildup before plaque weakens and erodes the outer enamel. At home, your children should also brush and floss daily to remove stray food particles and limit plaque buildup. Avoiding sugary and starchy foods andirons is also very beneficial too!
If you have any questions about treating or preventing issues like tooth decay, then contact our team today to learn about a dental filling!
Your Dallas, TX, Pediatric Dentist Offers Custom Restorations
Our team wants to help kids of all ages avoid infection and premature tooth loss from an untreated cavity. If you would like to learn more about treating tooth decay in little smiles, then contact your Dallas, TX pediatric dentist, Dr. Marr, by calling (214) 321-4880.

filed under: Restorations for Kids