Composite Fillings Mean Comfortable Treatment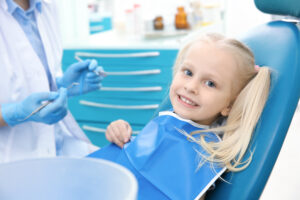 When we see children with cavities, we want treatment that is comfortable and brings relief to their smiles. Which is why we treat tooth decay with a composite resin dental filling. This restoration looks natural, and is long-lasting too! In today's blog, your Dallas, TX, pediatric dentist talks about our composite fillings.
The Risks of Cavities in Your Child's Smile
Dental cavities form when bacteria reach the inner dentin, the sensitive structure that makes up most of the tooth, and is usually protected by outer enamel. This could be caused by poor oral hygiene, such a diet high in sugar and improper brushing and flossing, which allows plaque buildup to accumulate and weaken the enamel. An injury or chronic teeth grinding could also compromise the enamel. As the decay grows and spreads, tooth sensitivity and toothaches could form, and the risk of an infection could increase as well. Treatment prevents infection and the premature loss of a baby tooth, a major factor in the onset of misalignment.
Placing a Dental Filling
If we examine your child's smile with digital x-rays and intraoral cameras and find tooth decay, we will likely treat the issue in one visit with a dental filling. To begin, we will numb the tooth to ensure your little one feels comfortable. Once this is done, we will remove decay from the tooth and thoroughly clean it. We may also etch the outer surface. The filling material, a metal-free composite resin that is safe for all ages, is then applied to the tooth. As we cure this under a light, we will sculpt and mold the tooth to ensure proper bite balance and a lifelike appearance.
The Benefits of Composite Resin
Composite resin is a metal-free blend of glass-like and acrylic materials, meaning it is safe for kids of all ages. The material is also durable, and doesn't change shape with time or temperature. This prevents discomfort and ensures the restoration can last for years to come. The restoration can also be color-matched to blend seamlessly with the rest of the tooth, offering a more lifelike appearance. Treatment then protects the tooth from further decay or infection, so your child doesn't risk worsening pain or losing a baby tooth too early.
If you have any questions about how we prevent tooth decay, or about treating cavities with our lifelike dental fillings, then contact our team today to learn more. We want to help kids of all ages smile with confidence!
Your Dallas, TX, Pediatric Dentist Offers Treatment For Cavities
We would like to help kids enjoy smiles free of major discomfort! If you would like to learn more about preventing infections and worsening discomfort, then contact your Dallas, TX pediatric dentist, Dr. Marr, by calling (214) 321-4880.

filed under: Restorations for Kids