Preparing Your Child For Their First Visit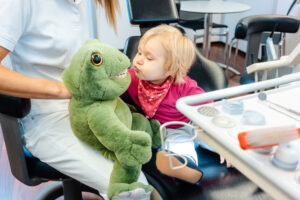 When your little one sees the dentist for the first time, there can be a little anxiety. Often cartoons and other children's shows treat the dentist like someone to be scared of! But don't worry, we know how to help your kids feel relaxed and comfortable, and in today's blog, your Dallas, TX, pediatric dentist talks about preparing your kids for their first visit!
When to See the Dentist
When a child's first baby tooth erupts, usually around age one, we recommend an initial visit so we can get to know your child and make sure teeth are erupting properly. Once your little one is about two years old, we recommend a visit every six months for a thorough dental exam and a dental cleaning. These visits help your child maintain good oral health. You should also bring your child in if he or she complains about aching teeth, or if a tooth is damaged. The sooner we address discomfort and injury, the better your child's chances of avoiding tooth decay and infection.
Talking to Your Kids
Before the visit, you can talk to your kid about what to expect. Let them know this is a simple visit for an exam and that we may clean the teeth. Stay positive, and they will feel more relaxed about the visit. While saying things like "don't worry" or assuring them it won't hurt may seem positive, this could actually create anxiety. Just focus on the positives!
The First Visit
Let your little one know that the visit starts with the waiting room, where they can play with games or toys while they wait. Eventually, we will call them back and you will accompany them to see the team. Our assistants, hygienists, and dentists are all trained in helping kids feel calm and relaxed, and will talk to them about themselves and what they're up to. They will discuss the tools we use for the diagnosis, and what to expect from the cleaning. If treatment is necessary, again they will discuss what to expect and take steps to ease discomfort.
Checkups and Cleanings
Checkups and cleanings may not seem like much, but when combined with brushing and flossing at home, these actions help prevent cavities, dental infections, and even gingivitis, while also fighting bad breath and teeth stains. If you have any questions about visiting our office, or if you would like to schedule one for your kids, then contact our team today to learn more.
Your Dallas, TX, Pediatric Dentist Provides Exams and More
Our team will always work hard to ensure each and every kid enjoys a relaxing and fun visit to our practice. If you would like to learn more about preparing your children for a visit, then contact your Dallas, TX pediatric dentist, Dr. Marr, by calling (214) 321-4880.

filed under: Children's Dental Services