What Happens During Your Child's First Appointment?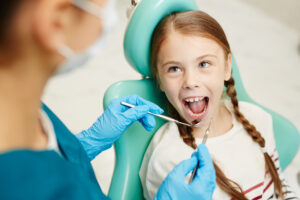 When your little one comes to our office for the first time, we will take steps to ensure he or she feels welcome and comfortable. In today's blog, your Dallas, TX, pediatric dentist is going to explain what happens during the first visit, and how a checkup and cleaning appointment could help kids of all ages.
Kids Need Checkups
We want to see your little one for his or her first visit at around age one, once the initial baby tooth has erupted. Then starting at age two, kids need to have a checkup and cleaning visit every six months. These visits allow us to monitor the smile as it grows and changes, addressing issues in the early stages. We watch for common problems like tooth decay, and also make sure the baby teeth are falling out on schedule and that the permanent teeth are erupting properly. Treatment to address problems quickly could help your kids enjoy good oral health, and these visits reduce dental anxiety as they become accustomed to the office. Kids also gain a better understanding of their oral health, and the importance of brushing, flossing, and regular dentist appointments.
The First Visit
First, your family will arrive and be greeted by our friendly staff. We will take your temperature and you will fill out any necessary forms while your child watches TVs or takes advantage of our free Wi-Fi. When we call your name, you and your little one will meet the dentist. The dentist will talk to your child about his or her interests, why you're visiting, and will carefully explain the tools and equipment being used. A gentle exam will be performed, and we will help your child feel relaxed and comfortable the entire time. We then answer any questions your child has, and after the exam you will check out with the front desk. If we need to schedule follow up visits for fillings, we will. Otherwise, we will simply schedule your next routine checkup visit.
What Happens Next?
After your visit, we will find out if there are issues that need treatment. If not, then you and your children will head home and from there, continue to keep smiles healthy with daily brushing and flossing and healthy diets. When issues like toothaches arise, let us know! Working together, we can help your little ones enjoy optimal oral health for years to come.
Talk to Your Dallas, TX Dentist's Office About Children's Appointments
Our team wants to help kids of all ages enjoy their best possible smile! To schedule your child's checkup and cleaning appointment, then contact your Dallas, TX pediatric dentist, Dr. Marr, by calling (214) 321-4880. We look forward to seeing you and your family, and helping your kids enjoy better oral health.

filed under: Children's Dental Services