Caring For Little Smiles At Home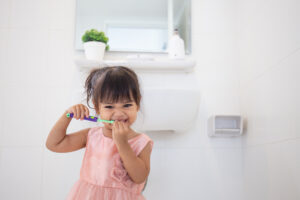 We want to see your kids for checkups and cleanings every six months, so we can help them maintain good oral health. But in between those visits, it's up to you and your kids to protect their oral health. In today's blog, your Dallas, TX, pediatric dentist talks about how to care for little smiles at home.
Brushing and Flossing
As soon as the first baby teeth erupt, they need to be cleaned to prevent tooth decay. For babies, this means gently cleaning them with cloth or a small toothbrush that fits over the finger. As they grow, you can upgrade to a toddler-sized toothbrush. Kids should have their teeth cleaned twice a day, once in the morning and again before bed, and you can help by keeping them from napping or sleeping with a bottle or sippy cup of juice or milk, as this increases the risk of tooth decay.
As for toothpaste, children three and younger should use a rice-sized amount of fluoride toothpaste, and kids over the age of three should use a pea sized amount. Make sure they're brushing for two minutes each time, and also help them floss! Young children may have an easier time with a pick, but an upgrade to floss tape as their dexterity improves. They should clean up and down each side of every tooth, and dip below the gum line. This helps fight cavities and even gingivitis.
Healthy Snack Choices
Our snack choices matter too! Items high in sugar and starch, such as candy, chips, soda, and dried fruit could leave behind particles for bacteria to break down, a process that eventually leads to tooth decay. Likewise, not drinking enough water, which hydrates and cleanses the mouth, could lead to cavities. Offer your kids plenty of water, and healthy items like fruit, veggies, sugar-free gum, cheeses, whole grain crackers, and low-fat yogurt.
Wearing Mouthguards
If your children play sports or martial arts, make sure they wear a mouthguard. This helps prevent inadvertent damage to the tooth, as even a minor chip or crack could lead to cavities and infection. You can also bring them in for routine checkups and cleanings every six months as well! If you have any questions about keeping smiles healthy and strong, then contact our team today. We want to help your little ones smile with confidence!
Your Dallas, TX, Pediatric Dentist Is Ready to See Your Child
We want families in our community to know how to keep their children safe from tooth decay and gingivitis with daily care at home. If you would like to learn more about protecting your child's oral health, then contact your Dallas, TX pediatric dentist, Dr. Marr, by calling (214) 321-4880.

filed under: Children's Dental Services