A Pulpotomy Could Save An Aching Tooth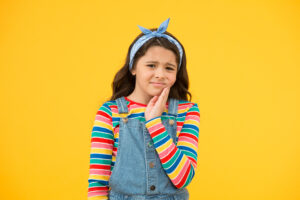 When your child complains about pain in a tooth, this could mean the presence of an infection. Without treatment, this could mean pain worsens and the tooth could become lost! To avoid these complications and bring a halt to discomfort, your Dallas, TX, pediatric dentist could offer a pulpotomy.
Toothaches and Infection
When a child develops a cavity that isn't treated in a timely manner, this could allow the decay to spread until it reaches the pulp. The pulp is a tooth's nerve center, and the presence of bacteria means an infection that could compromise the tooth unless treated. Warning signs of an infection include tooth sensitivity when eating and drinking, toothache, pain when chewing or biting down, a swelling near the tooth, or even a discharge from it. If your child experiences one or more of these symptoms then contact our team right away. We can offer treatment options to restore the health and function of the tooth.
The Pulpotomy Procedure
We always want our little patients to feel calm and comfortable. This is why we administer a local numbing agent to the area around the tooth. We also have dental sedation, which helps kids enter a calm and relaxed state. We then begin the pulpotomy procedure by opening the tooth and gently removing the infected portions of the inner tissues. A special medicated filling is then added before we cap the tooth with a stainless steel or white zirconia dental crown. This preserves bite balance and chewing function, and also protects the remaining tooth structure. Your child then enjoys relief from discomfort.
Protecting Smiles
You can take measures to help safeguard your child's smile against poor oral health issues. For example, be sure he or she attends routine six-month checkup and cleaning visits. We can watch for the earliest signs of trouble, addressing decay before your child experiences discomfort in some cases. We also clean the teeth, removing the plaque and tartar that could weaken enamel and cause the onset of cavities and infection. At home, try to limit your child's consumption of sugar and starch, which helps reduce the severity of plaque. Make sure they brush twice daily with a fluoride toothpaste, and also floss every evening.
These actions help protect little smiles of all ages! If you have any questions, or if you would like to schedule a visit to our office, then contact our team today to learn more.
Your Dallas, TX, Pediatric Dentist Treats Infected Teeth
We want to help your children enjoy good oral health and avoid premature tooth loss. If you would like to learn more about treating serious decay and infection in little smiles, then contact your Dallas, TX pediatric dentist, Dr. Marr, by calling (214) 321-4880.

filed under: Restorations for Kids