Helping Your Children Brush Their Teeth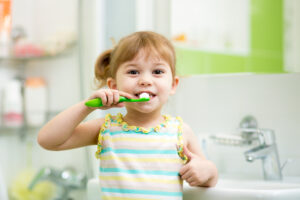 Your dentist has likely told you multiple times that brushing daily is crucial for good oral health. Well, this applies to kids too! In today's blog, your Dallas, TX, pediatric dentist talks about how to help your child take good care of their teeth, helping them avoid issues like tooth decay and even gingivitis.
Choosing a Toothbrush
Children will need different kinds of toothbrushes at different ages. For example, babies may simply need a cloth to clean the teeth or a small brush that fits over your finger. Toddlers will benefit from one that is smaller and easy for them to use, and for you to use as well when you assist them. To help make caring for smiles fun, you could let them choose one with a favorite color or movie character on it. As long as they have soft bristles and are used daily, any option works. Some parents prefer electric models made for kids, while a manual model also works just as well!
Fluoride Toothpaste
Fluoride is a naturally-occurring mineral that has been shown to strengthen tooth enamel and reduce the risk of cavities in people of all ages. In fact, we often offer treatments in a varnish form during your child's checkup to help safeguard the smile. For very young children, we recommend using a rice sized blot of fluoride toothpaste, while kids over the age of three can use a pea-sized amount. This helps shore up your smile's defenses against enamel erosion and tooth decay. Look for fluoride as an ingredient, or the American Dental Association's Seal of Acceptance on the packaging. Remember, this benefits you too, so do the same when selecting your toothpaste.
Daily Cleaning
Kids should brush, or have their teeth brushed, in the morning and then again at night. Each session should take about two minutes, and to time your kids and make it fun, you can buy a sand timer or use a fun song or video. Kids should also floss every evening as well, as this reaches what a toothbrush alone cannot.
See Our Team
You should bring your little one to see us every six months starting at age two, so they can receive a checkup and cleaning. But if in between these visits your child complains about a toothache, then give us a call. If you have any questions about how we help little smiles stay healthy and strong, then contact our team today to learn more. We would love to help your little one enjoy good oral health!
Do You Have Any Questions About Children's Oral Health?
Our team wants to help your kids enjoy good oral health each day. Set up an appointment with us by contacting your Dallas, TX pediatric dentist, Dr. Marr, by calling (214) 321-4880.

filed under: Children's Dental Services