Using Laser Dentistry For Comfortable Care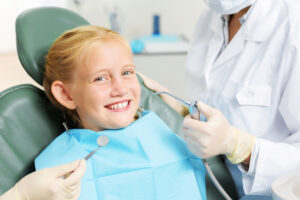 In addition to advanced technology to examine little smiles and offer a precise diagnosis, we also have treatment to provide comfortable treatment. Using the advanced Solea dental laser, we can address a number of issues that impact kids. In today's blog, your Dallas, TX, pediatric dentist talks about the applications of this system.
The Comfort of a Dental Laser
The dental laser will employ a concentrated beam of light, one that we can use with precision to treat a variety of issues. The system rarely requires the use of anesthesia and is actually quiet and comfortable. Kids always enjoy avoiding the need for shots! For this reason, many of our patients prefer it over the traditional scalpel and sutures. In fact, treatment with dental lasers doesn't need sutures at all, and will be able to prevent damage to surrounding tissues in the smile. Afterward, the risk of bleeding and infection is significantly reduced, and the area will heal quickly. Many kids return to normal activities after only a day of rest!
Treating Hard and Soft Tissue Concerns
We could use this advanced system to provide a comfortable, and single -visit, solution for issues like tooth decay and even dental infection. We can also treat gingivitis, reducing inflammation in older kids. We also help address minor esthetic issues with a little smile. This could also address cold or canker sores too. Children will enjoy less time in the chair, and in many cases, they can return to school afterward!
Schedule a Visit Soon
To find out if your child needs treatment, or if he or she complains about aching teeth or sensitive gums, then schedule a visit for a checkup and cleaning! This appointment allows us to monitor the smile and assess their current state of their oral health, often correcting issues in the earliest stages. The cleaning removes plaque and tartar to protect teeth from cavities and inflammation. In the same visit, we could offer fluoride gel and dental sealants to help strengthen your child's defenses against the onset of tooth decay. Now is a great time to schedule a visit, as spring break is right around the corner, so your child can see us without missing any school.
If you have any questions about our appointments, or about the use of advanced technology in the diagnosis and treatment of little smiles, then contact our team today to learn more.
Your Dallas, TX, Pediatric Dentist Talks About Advanced Technology
We would like to help your family enjoy good oral health. If you would like to learn more about the technology we use to treat little smiles, then contact your Dallas, TX pediatric dentist, Dr. Marr, by calling (214) 321-4880. We want to help kids of all ages enjoy better oral health and brighter smiles!

filed under: Preventive Treatments