Comfortable Care With Laser Dentistry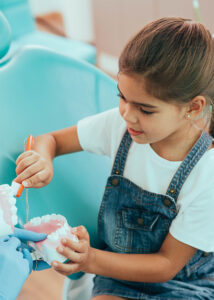 When kids need treatment, we always employ the latest technology to offer care with precision, and ensure better comfort too. In today's blog, your Dallas, TX, pediatric dentist talks about how we ensure a comfortable treatment with the use of laser dentistry.
The Comfort of Dental Lasers
The Solea dental laser we use will employ a concentrated beam of light that allows us to address common oral health issues with greater precision and accuracy. Your children may not even require anesthesia, and the laser reduces the risk of any bleeding or infection afterward. In fact, the greater level of precision when compared to a scalpel means little risk of damage to surrounding gum or bone tissue! This also means the area heals faster, so your little one can return to normal daily activities after only a day or two of rest. 
Applications for Our Patients
In as little as one sitting, we can use this technology to help remove decay from a tooth, treat infections, and even reduce the severity of gum inflammation. For some, we could correct specific esthetic issues with the teeth and gums, and also treat canker and cold sores to bring relief and prevent embarrassment. In many situations, your children can even return to school following treatment. We're so proud to offer advanced technology to treat hard and soft tissue problems in a little smile, providing treatment with comfort and precision. 
Starting Treatment
Along with laser dentistry, we also employ technology in the diagnostic process too. With digital x-rays and intraoral cameras, we can diagnose common issues in the earliest stages, so we offer treatment before your child experiences discomfort or loses a tooth prematurely. To make sure we catch possible problems in the earlier stages, be sure to bring your children in for a checkup and cleaning appointment at least once every six months, with the first appointment happening around age one after the eruption of a baby tooth. If your child hasn't seen the dentist lately, then start the year off right by scheduling a visit for an exam and cleaning today. We would love to help your little one enjoy good oral health and gain a better understanding of their smile! If you have any questions or concerns, then please don't hesitate to contact our team today to learn more!
Do You Have Any Questions About Sedation Dentistry?
Whether your child has anxiety or is undergoing oral surgery, we want to ensure he or she is always comfortable. Set up an appointment with us by contacting your Dallas, TX pediatric dentist, Dr. Marr, by calling (214) 321-4880. We want to help kids of all ages in our community smile with confidence, treating issues with their teeth and gums before they compromise the smile!

filed under: General Dentistry