Celebrate The Lunar New Year On Saturday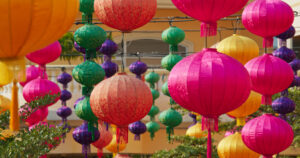 February 1st was the Lunar New Year, and your family can celebrate the Chinese New Year on Saturday in Richardson, TX! Each week, we like to dedicate a blog to fun family-friendly events you and your little ones can enjoy in the DFW area. This week, we're looking at the Lunar New Year activities happening this week. We also want to remind you to schedule your next checkup visit!
When?
These events will be taking place on Saturday, February 5th from 10am until 2pm.
Where?
These activities will be taking place at the Richardson CORE district at 400 North Greenville Avenue, in the DFW Chinatown district. These events and activities will be celebrating the Year of the Tiger as part of the Lunar New Year, and will be fun for the entire family!
What to Expect
This festival is being presented as part of a partnership between the CORE district members, DFW Downtown, and the Dallas Chinese Community Center. Over 20 area restaurants will be having Chinese cuisines in different Richardson communities, so you and your family can sample baked goods, specialty teas, and incredible foods. There will even be demonstrations of traditional meal preparation, and red lantern displays all over town! Other fun activities include calligraphy, lantern painting and creation, decorative paper cutting, the passing of red envelopes, and plenty of fun photo ops. You and your little ones can also see dance demonstrations, musical performances, kung fu performances, and a fashion show.
Your family has a chance to enjoy a fun and educational DFW tradition. What better way to spend a Saturday afternoon? We hope to see you there! Parking is available onsite in the DFW Chinatown district, and an event bus is available to transport people from the Arapaho DART station from 10am until 2:30pm. For more information, visit this link!
Schedule a Checkup
We also want to remind parents that kids need a checkup and cleaning every six months to enjoy healthy smiles. Now is a great time to schedule a visit and talk to our team. In addition to the exam and cleaning, in the same visit we could discuss preventive treatments like fluoride varnish and dental sealants to help protect little smiles from cavities. We can also offer lifelike fillings too, safeguarding teeth from infection and premature tooth loss. If you have any questions about how we care for little smiles, or if you would like to schedule a consultation, then contact our team today to learn more.
Contact Your Dallas, TX, Pediatric Dentist for an Exam!
Our team wants to help your children enjoy good oral health for years to come. Set up an appointment with us by contacting your Dallas, TX pediatric dentist, Dr. Marr, by calling (214) 321-4880.

filed under: Community Events