Helping Your Kids Brush Their Teeth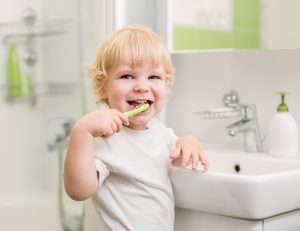 People of all ages need to brush their teeth each day, and this includes babies, toddlers, and children. In today's blog, we're offering some tips to help you care for your child's smile, and make sure they can brush better each day. In today's blog, your Dallas, TX, pediatric dentist talks about how to help kids keep their teeth strong and clean.
Choosing the Best Toothbrush
When you go to the store, you'll find a number of options available for each age of your child. There are small ones that are easy for you to use to clean your baby or very young toddler-aged child's teeth, and options designed for your older children to use. Be sure to pick one that is meant for their age range. Picking one with a favorite color or cartoon/movie character could make them more eager to clean their teeth!
Should Your Kids Use Fluoride Toothpaste?
Kids of all ages benefit from the use of fluoride toothpaste. Fluoride occurs naturally, and has been shown to strengthen the outer tooth enamel, reducing the risk of cavities. You will be able to find cavity-fighting toothpaste options at the store that contain fluoride, and should use a rice-sized bit for kids three and younger, and a pea-sized amount for children over the age of three.
Brushing Daily
For babies and toddlers, you will need to brush their teeth with a cloth or a small toothbrush in the morning and again at night. The sugars from milk and juice could make cavities possible as soon as teeth erupt, so daily care is essential. As your children age, they should begin brushing themselves in the morning and again at night. Each session should take about two minutes. You may assist your younger kids, and brush alongside your older ones to make sure they brush their teeth properly and to provide a good example of what to do. Each session should take two minutes, so we suggest finding a fun song to time them.
Stop by Soon
Kids also need a checkup! We can watch for signs of trouble, and also make sure that everyone has been cleaning their teeth correctly. You should see us about once every six months, so if you haven't scheduled your last checkup of 2021, now is a great time before the holiday season makes your schedule a lot more hectic! If you have any questions, then give us a call today.
Talk to Your Dallas, TX Dentist's Office About Caring for Little Smiles
We would like to help you and your family take better care of your smiles each day. To schedule a visit for your child's next checkup and dental cleaning, then contact your Dallas, TX pediatric dentist, Dr. Marr, by calling (214) 321-4880.

filed under: Family Dentistry