Achieving Better Smiles With Laser Dentistry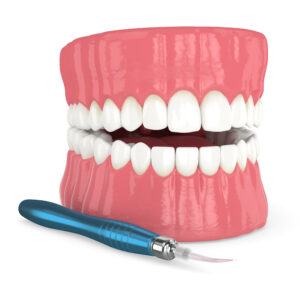 Did you know that our office employs the advanced Solea dental laser as part of our treatments? This technology not only addresses hard and soft tissue concerns, but offers a comfortable experience for kids of all ages! In today's blog, your Dallas, TX, pediatric dentist talks about the benefits of using lasers to treat little smiles.
Our Solea Dental Laser
The laser will employ a concentrated beam of light, one that is specially calibrated to address oral health issues in both hard and soft tissue capacities. In many cases, these replace the need for scalpels and sutures for a variety of treatments, helping children of all ages enjoy a more comfortable treatment and healing period.
Treating Little Smiles
We could use the technology to treat the early stages of gum inflammation, reversing gingivitis and protecting overall oral health. We also help remove decay from a tooth before placing a filling, or use this to aid in the treatment of an infected tooth with a pulpotomy. We could help remove stains and address other minor esthetic issues as well.
A Comfortable Experience
Using lasers means there is often little need or anesthesia, so your child could avoid a shot during treatment. Treatment is often shorter, so your kids spend less time in the chair, and many even return to school following the procedure. Since awn can target specific areas of the smile with precision, this means no damage to surrounding tissues, and a educe risk of bleeding, infection, or other complications when compared to scalpels and sutures. All in all, this helps us address preventive cosmetic, and even esthetic issues that may develop in your child's smile, offering quality treatment in a shorter time frame!
Use Your Benefits Soon!
You may consider scheduling a visit for your child now to undergo treatment. Your dental insurance benefits or health savings funds will expire at the end of December unless used. You can set up an appointment now to help your kids end 2021 with a healthier smile! You can also receive treatment for your little one before the hectic holiday season makes your schedule too busy to find time to see the dentist. If you have any questions about our use of advanced technology to treat little smiles, or if you're ready to schedule your child's next checkup and cleaning appointment, then contact our team today.
Talk to Your Dallas, TX Dentist's Office About Our Treatment Options
We would love to help your child enjoy a comfortable and relaxing visit when he or she sees us! To schedule a visit with our team before the year ends for your children, then contact your Dallas, TX pediatric dentist, Dr. Marr, by calling (214) 321-4880.

filed under: Restorations for Kids