Dental Sedation For Little Smiles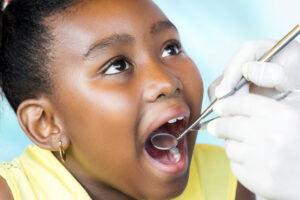 A good experience at the dentist in childhood means a kid is more likely to take better care of his or her smiles, and continue to seek treatment in adulthood. Which is why we always want to make sure each and every one of our young patients enjoys their time in the office. To help them feel comfortable, your Dallas, TX, pediatric dentist could offer dental sedation.
Ensuring Your Child's Comfort
We use calming agents to help kids undergoing more extensive restorative treatments, such as root canal treatment or tooth extraction. But we could also use this to help those with dental anxiety or special needs that make undergoing even minor checkups and cleanings a difficult process. We want to ensure your little one feels comfortable, as this also helps instill good oral health habits and makes them more likely to continue seeing the dentist in the future. Our team includes trained anesthesiologists who are board-certified and members of the Pediatric Dental Anesthesia Associates. They will be present for any procedures that require sedation.
Choosing the Best Option
We have multiple options and will take a number of factors into account when choosing the best one for you. For example, we will look at your child's medical history, age, weight, and assess their anxiety levels too. 
3 Dental Sedation Options
We have three different options available for our patients. For most cases, we could recommend laughing gas, or nitrous oxide. This is administered through a mask over the nose. The child feels instantly calmer, and the effects wear off when the procedure is over. Many kids can even return to school! For those in need of a deeper state of calm, we could opt for oral sedation, given prior to treatment in a pill or liquid form. The effects take more time to wear off completely, so they will likely need to go straight home afterward. We also have IV for the deepest option, and will monitor your child's vitals throughout the process. 
If you have any questions about these options, or about the process of choosing which is right for your little one, then please don't hesitate to give us a call. We would love to see your child for his or her first checkup and cleaning of 2022, helping them enjoy better oral health throughout the year.
Do You Have Any Questions About Sedation Dentistry?
Whether your child has anxiety or is undergoing oral surgery, we want to ensure he or she is always comfortable. Set up an appointment with us by contacting your Dallas, TX pediatric dentist, Dr. Marr, by calling (214) 321-4880. We want to help kids of all ages in our community smile with confidence. 

filed under: Restorations for Kids