How We Place A Child's Filling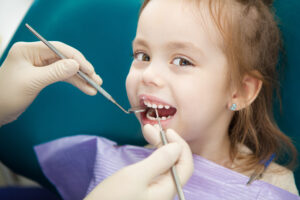 Children are very susceptible to dental cavities, and these could cause discomfort and lead to poor oral health. To treat a cavity, we often place a safe and metal-free dental filling in one visit.  In today's blog, your Dallas, TX, pediatric dentist talks about when we prescribe a filling, and how we place one.
When Little Smiles Need Restoration
If your children attend routine six month visits, we will be able to diagnose a cavity in the earliest stages, often before discomfort arises. Otherwise, you may not know your child needs treatment until he or she complains about tooth sensitivity and toothaches. A cavity forms when the outer enamel is compromised, either via injury, teeth grinding, or poor oral hygiene habits. As bacteria reach the inner tissues, this causes a cavity to form. Over time, the day will spread through the tooth and could eventually mean an infection! 
Placing a Dental Filling
Treatment starts with an exam utilizing advanced digital imaging, so we can assess the severity of the cavity. If the tooth needs a filling, we will gently administer a local numbing agent and then remove decay from the tooth. Next, we clean the tooth and apply the filling material. Made from a composite resin, this blend of glass and acrylic-like particles is safe for all ages. We can also color-match the material to blend with the tooth. The last step is to polish the tooth for a more lifelike appearance. The procedure takes one visit, and we will walk your child through each step and answer any questions, ensuring he or she feels comfortable and relaxed!
Cavity Prevention
You could also take steps to help your child avoid the onset of tooth decay! For example, to help prevent the plaque buildup that weakens outer enamel, make sure your kids enjoy healthy snacks and drinks that aren't high in sugars and starches. Be sure they brush and floss daily, and if possible clean your teeth with them to minaret them and show them a good example of proper oral hygiene. They also benefit from a visit to our team every six months for a checkup and cleaning. These are simple actions that help precut babies, toddlers, and kids from issues like tooth decay.
If you have any questions, or if you would like to schedule a visit soon, then contact your team today. We would love to help your little ones enjoy good oral health and bright smiles in 2022.'
Schedule Your Child's Restoration Placement Soon 
When a cavity forms, we want to help treat the issue in one visit. Set up an appointment with us by contacting your Dallas, TX pediatric dentist, Dr. Marr, by calling (214) 321-4880.

filed under: Restorations for Kids