Placing Safe Fillings For Kids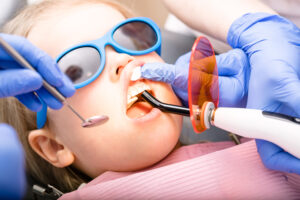 When we see a child with a cavity, we offer a safe and biocompatible treatment with metal-free dental fillings. We offer an option that looks natural and blends with the smile seamlessly. In today's blog, your Dallas, TX, pediatric dentist talks about how we prepare and place these fillings to treat tooth decay in little smiles.
Treating Tooth Decay
The warning signs of a cavity include tooth sensitivity to hot or cold foods and drinks, or possibly a persistent toothache. If your little one complains about an aching tooth, bring him or her in for a checkup. We will carefully examine the smile to identify the cavity and assess the severity. If you attend regular six-month checkups, then our team will also be able to diagnose decay in the earliest stages, often before discomfort develops. Treatment is crucial to prevent the cavity from growing more severe and causing an infection, which could compromise the tooth's stability.
The Filling Placement Process
To place a dental filling, our team will first administer a numbing agent to ensure your child is calm and comfortable. We also have dental sedation for children with severe anxiety or special needs. Once your little one is comfortable, we will remove all decay from the tooth and then thoroughly clean the tooth. We apply the filling material in several layers. The composite resin we use is metal-free and safe for kids of all ages. The material can also be color-matched to blend with the tooth. The material is cured under a special light, and the tooth is then polished for a brighter appearance. The entire process only takes one sitting to finish!
Preventing Tooth Decay
To prevent cavities, make sure your child is enjoying sugary foods and drinks in moderation, as this could lead to plaque and the onset of tooth decay. Children of all ages also need to brush in the morning and again at night. As soon as teeth sit side-by-side in the mouth, flossing is crucial, as this removes trapped food particles that a toothbrush may not be able to reach. Be sure your child sees us for a checkup and cleaning every six months as well. A visit now means your child greets the holidays with a stronger smile, and also that you can use your 2021 dental benefits before they expire at midnight on December 31st. If you have any questions about treating tooth decay in childhood, then contact our team today.
Talk to Your Dallas, TX Dentist's Office About Stopping Toothaches
We would like to help treat cavities in little smiles and prevent the risk of infection or tooth loss. To find out if your little one needs to undergo treatment of an aching tooth, then contact your Dallas, TX pediatric dentist, Dr. Marr, by calling (214) 321-4880.

filed under: Children's Dental Services