Start 2022 With Healthy Smiles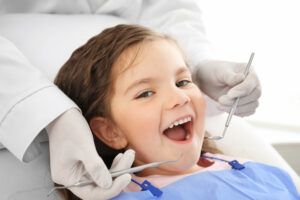 We want to ensure your kids enjoy better oral health throughout 2022, which is why we suggest starting the year off with a checkup and cleaning visit. In today's blog, your Dallas, TX, pediatric dentist wants to make sure your children avoid issues like tooth decay, and continue to smile with confidence.
Starting with Your Child's Checkup
Start the year off right with a visit for a checkup and cleaning. The dental exam allows our team to assess the state of their smiles and then identify any areas of concern. We then treat them before these issues become severe and threaten the smile. A child's initial exam should take place around age one, once the first baby tooth has erupted. Starting at age two, kids need a visit every six months. During the exam visit, our team will also clean the teeth thoroughly, removing harmful buildup to provide a brighter and healthier smile. 
Dental Restorations
If your child has a cavity or infection, we can offer treatment with a restoration. For a cavity, we place a metal-free filling that is shaded to blend with the tooth. This only takes one visit to complete! If a tooth is infected, we could remove the infected tissues and place a special medicated filling, and then complete the procedure by capping the tooth with a crown. Our white or stainless steel crowns can also address damaged teeth too! With dental sedation, we can also ensure your kids remain calm and comfortable throughout the process.
Preventive Treatments
We also have preventive procedures that help limit the risk of tooth decay, safeguarding little smiles. Fluoride can be applied during the checkup visits, which strengthens the outer enamel to reduce the risk of tooth decay. We could also apply a dental sealant. This is a special acrylic layer that coats the back teeth and prevents food particles from becoming trapped between them. Since these teeth are difficult for kids to reach when they brush and floss, this limits the risk of tooth decay. Application takes minutes, and they could stay in place for between 5 and 10 years!
If you have any questions about our approach to children's dentistry, or if you would like to schedule a visit for your little one soon, then contact our team today. We would love to help your family enjoy good oral health throughout 2022, and to better understand their smiles in the process. 
Schedule Your Child's Visit Soon 
We would like to help your children start 2022 on the path toward better oral health and brighter smiles with an initial preventive visit. Set up an appointment with us by contacting your Dallas, TX pediatric dentist, Dr. Marr, by calling (214) 321-4880.

filed under: Family Dentistry