Treating Infected Teeth In Children's Smiles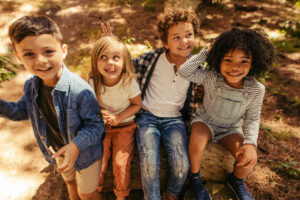 An infected tooth means major discomfort for your children, and also the risk of losing a tooth prematurely, which impacts the alignment of the smile. To prevent these complications, your Dallas, TX, pediatric dentist explains how we treat infection with a conservative root canal treatment known as a pulpotomy.
The Causes of an Infected Tooth
At the center of each tooth is a collection of tissues known as the pulp. This is a tooth's nerve center and controls the movement of blood and nutrients through the root canals. When bacteria come into contact with the pulp, this leads to an infection. This development is possible due to an untreated cavity that has grown severe, or as a result of a worn down or chipped/cracked tooth. Warning signs include sensitivity to hot or cold foods and drinks, persistent aches and pain when chewing, swelling near a tooth, or a discharge from it. If your child reports similar symptoms, bring him or her to see us. Attending routine six-month checkups could also help by allowing us to identify an issue like infection in the earliest stages.
The Dangers to Their Smiles
Without treatment, the tooth could become lost and the infection reach other teeth or the jawbone itself. Instead of losing a tooth or having one that needs to be treated, seeing us soon could mean we can find a solution that preserves your child's smile and halts discomfort. To help prevent the onset of an infected tooth, be sure your child brushes and flosses each day, cuts back on sugary foods and drinks, and sees us for a checkup and cleaning every six months. In fact, there is still time to see us for a visit before the year ends. You could use your remaining 2021 dental insurance benefits in this visit!
Pulpotomy Treatment Options
The process starts with our team administering a local numbing agent and dental sedation. Your child enters a relaxed stage, and remains comfortable as we open the tooth to remove the infected portions of the pulp. We then add a special medicated filling material and cap the tooth with a crown. We could use a stainless-steel option, or possibly a NuSmile zirconia crown. If you have any questions about how we treat issues in childhood like tooth decay or dental infection, or if your child needs to undergo an exam for an aching tooth, then contact our team today.
Talk to Your Dallas, TX Dentist's Office About Children's Root Canals
We would like to help kids of all ages avoid the complications of an untreated dental infection. To find out how we address cases of severe tooth decay, then contact your Dallas, TX pediatric dentist, Dr. Marr, by calling (214) 321-4880.

filed under: Children's Dental Services