What To Expect From Your Child's Crown Placement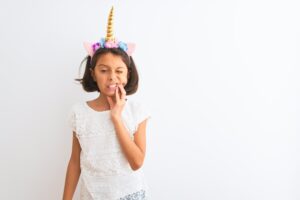 When your child has issues with chewing or a tooth that is severely decayed or damaged, then we may recommend placing a dental crown. These restorations provide quality repair and could last for years to come. In today's blog, your Dallas, TX, pediatric dentist talks about how we place dental crowns for little smiles.
What We Make Them From
The material we use will depend on where the tooth is located. For the front-facing teeth, we may opt for NuSmile crowns. Made from zirconia, these are very durable and also come in a shade that looks like a natural tooth color. These tend to blend with the smile more easily. For the side and rear teeth, which must endure great bite forces, our team could prescribe a stainless-steel option. These are very strong and able to absorb daily bite forces.
Placing Restorations
We start with a detailed examination, which allows us to assess the factors behind your child's injury or discomfort. If we find a crown is the best option for treatment, then we will thoroughly clean the tooth and take detailed impressions. A model is then made in a dental lab and then the final product is ready, your kid will visit us again so we can attach the crown and restore the tooth. The process takes two visits and helps prevent infection, worsening discomfort, or tooth loss from occurring. If your child ever reports persistent discomfort, let us know.
Protecting Smiles
To help limit the risk of injuries, then be sure your child wears a mouthguard when playing sports or martial arts. A visit to our team every six months also helps, as we can identify possible issues in the earliest stages. We then offer care before the tooth hurts in many cases. You could also help by making sure your kids start each day by brushing their teeth for two minutes and using a fluoride toothpaste. They should do the same before bed, and may need your assistance too. A fun song or app could help time them too. Flossing is also essential once there are teeth sitting side-by-side.
If you have any questions about treating little smiles with our restorations, or if you would like to schedule your child's checkup and cleaning visit before the year ends, then please give us a call! Your 2021 dental insurance benefits could be put to use before they expire, and your little one can start a new year with a healthier smile!
Talk to Your Dallas, TX Dentist's Office About Restorations for Kids
Our team is ready to help bring comfort, health, and improved function to your child's smile. To find out if your kid could benefit from one of our custom restorations, then contact your Dallas, TX pediatric dentist, Dr. Marr, by calling (214) 321-4880.

filed under: Restorations for Kids