Protecting Little Smiles With Crowns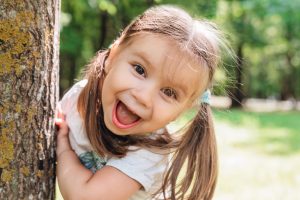 When a child has a dental cavity, then we may suggest a composite resin filling. But what if there is a more severe case of tooth decay, or possibly a chipped or cracked tooth? In these scenarios, we may need to place a dental crown. In today's blog, your Dallas, TX, pediatric dentist talks about our dental crowns.
When Kids May Need a Crown
As we touched on above, a dental crown could be used to address more severe cases of tooth decay, as this restoration covers the entirety of the visible tooth structure. We could also repair cracks and chips, and help improve balance in the smile, correcting issues with chewing or how the teeth fit together. Placement also corrects any esthetic problems with the shape of the tooth as well. When we examine your child's smile, we will assess the cause and extent of your oral health issues, and decide if this is the best option to offer treatment!
Strong Materials
Depending on the location of the tooth, we may use our stainless steel or NuSmile zirconia crowns. Stainless steel is very strong and durable, and makes a great option for the side and rear teeth, which endure greater bite forces and pressure. Our team could also offer a more lifelike option for the front facing teeth using NuSmile zirconia. This material is also very durable, but can be color-matched to match the rest of the smile.
Placement and Care
First, we will administer a local anesthetic and could also offer sedation to help your child enter a calm and relaxed state, sometimes with little memory of the procedure at all. Once your child is comfortable, we will gently remove tooth structure or the tooth in question to make room for the restoration. We then place the new crown and secure it with a powerful bonding agent. The same care that keeps natural teeth strong could safeguard the restoration, allowing it to last for years to come.
Keeping little smiles strong involves daily care to brush and floss, and also a healthier diet that doesn't encourage sugary foods and drinks. We also recommend kids see us for a checkup and cleaning too, so we can monitor the smile and address issues early to reduce complications and discomfort. Now is a great time to see us, as your child can receive care before the busy holiday season, and you can use any remaining 2021 dental insurance benefits. If you have any questions, then give us a call today.
Talk to Your Dallas, TX Dentist's Office About Custom Restorations
We would like to offer repair to protect little smiles from poor oral health. To schedule an appointment to repair and restore a smile, then contact your Dallas, TX pediatric dentist, Dr. Marr, by calling (214) 321-4880.

filed under: Restorations for Kids