Laser Dentistry Means Less Time In The Dentist's Chair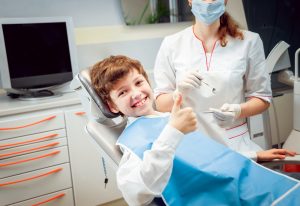 We use a number of advanced technologies to help care for little smiles, such as digital x-rays and intraoral camera systems. However, we also use laser dentistry to help treat hard and soft tissue issues in a child's smile. In today's blog, your Dallas, TX, pediatric dentist is talking about our Solea dental laser, and how it helps improve oral health.
The Laser System
The Solea dental laser employs a concentrated beam of light, one calibrated to treat both hard and soft tissue concerns. In many cases, this means we can offer treatment without the need for scalpels, or even sutures for that matter.
Applications for Your Child's Smile
The laser could address a wide array of oral health issues. For example, we could treat tooth decay by removing decay from the smile with precision. If the gums become inflamed, we can help remove buildup and bacteria from the smile to prevent worsening symptoms. For children with cold or canker sores, we can offer instant relief. In fact, some children even return to school following their appointments!
Benefits
A dental laser performs treatments with precision, meaning that they focus on the areas that need care and don't damage surrounding tissues at all. This precision also means a lowered risk of bleeding or infection, and means a much faster healing period. As we mentioned above, some kids head straight to school following their appointment! Care usually requires only one visit, and for many, there is no need for dental anesthesia at all.
See Us Soon!
If you haven't made an appointment lately for your child, we understand. With school having started and extracurricular activities, your schedule can be pretty hectic. However, with the holiday season right around the corner, you can expect things to get even more hectic in the coming months. Which is why we recommend scheduling your child's last checkup and cleaning of 2021 with our office soon! We can address any issues that have developed, and make sure your little one's smile is ready to start 2022 bright and healthy. If you have any questions about our appointments, or if you would like to schedule one for your little one, then contact our team today. We look forward to hearing from you!
Talk to Your Dallas, TX Dentist's Office About Laser Dentistry
Our team is ready to help kids of all ages in our community obtain the care they need to enjoy good oral health. To schedule a visit for your children soon, contact your Dallas, TX pediatric dentist, Dr. Marr, by calling (214) 321-4880. To offer the best possible care, we will employ an array of advanced technologies, from digital x-rays and intraoral camera images, to the use of dental lasers.

filed under: Preventive Treatments