Bringing Your Baby For Their First Visit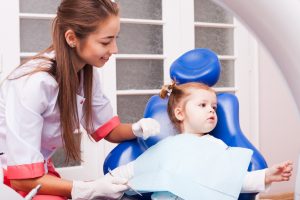 There are many important "firsts" when you have a baby. One is the arrival of their first tooth. Shortly after their initial tooth appears, an initial checkup with a pediatric dentist provides a helpful introduction to a new environment for a baby. This is a chance to prepare them for subsequent appointments, but it also lets your dentist take a careful look and make sure their development is normal. Our Dallas, TX pediatric dental office can make sure kids have beneficial first visits, and we can provide care through the years to help them keep their teeth in good health!
When Should I Bring My Child To Their First Dental Visit?
An initial appointment should take place shortly after your baby's first tooth arrives. The first visit is valuable for several reasons. One is that from the time that their teeth begin to arrive, a baby is vulnerable to cavities. We can offer guidance on protecting them from decay so that they can remain healthy during these early years. Another reason to come in for an initial visit is to introduce a baby to a new environment, which lets them adjust to their surroundings and feel more comfortable.    
Transitioning To Regular Exams And Cleanings
At first, we will provide gentle, age-appropriate preventive dental care for infants who come to us. As they age, children will move from knee-to-lap exams to the kind of preventive services that are valuable for patients of all ages. Examinations and teeth cleanings protect kids against the threats of decay and gum disease. These meetings also give us the chance to educate our young patients on both the importance and practice of smile care at home. With this support, they can learn and follow better practices, which will serve them well when they transition to caring for their teeth without your direct help.
The Importance Of Updates About Your Child's Growth
Through the use of safe digital x-rays, we will gather images of your child's oral structures so that we can look out for problems and check on their growth. By gathering details about early milestones and watching for possible problems, we can determine if any oral health issues need to be addressed. This includes common issues like malocclusion, which will call for orthodontic treatment at the right time. Early updates give you time to prepare, and ensure that any concerns are resolved before they can worsen.
Bring Your Child For Their First Visit At Pediatric Dental Care At Casa Linda!
From their first visit on, Pediatric Dental Care At Casa Linda can make sure that your children have access to reliable oral health care. We are proud to provide helpful services, including restorative treatments when needed, but we also focus on giving kids the tools they need to practice better care at home! If you have questions, or if you are ready to set up your child's initial dental visit, please call our Dallas, TX, pediatric dentist, Dr. Marr, by calling (214) 321-4880.

filed under: Children's Dental Services