When Little Smiles Need Extraction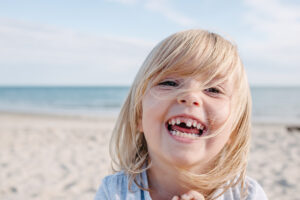 Sometimes, a tooth develops a concern so serious that treatment simply isn't possible. To safeguard the rest of the smile, we may suggest a gentle tooth extraction procedure. In today's blog, your Dallas, TX, pediatric dentist talks about when smiles may need to have a tooth removed, and how we ensure patient comfort.
The Extraction Process
The ultimate goal when it comes to taking care of tiny smiles is to, ideally, maintain that healthy smile for life. Unfortunately, a number of factors or situations might get in the way of achieving this goal, and alternative solutions may need to be pursued. The same can be said for a tooth, and depending on the level of infection endured, it may be necessary to remove a troubled structure so that your little one's other teeth can thrive in a healthy manner.
Indeed, think of this process in the same manner you would care for a plant. Sometimes it is necessary to prune or remove a dead leaf so that the rest of the plant can continue to thrive. When it comes to pediatric tooth extractions, there are a number of causes that might warrant treatment. For example, severe decay or infection may be posing a threat to surrounding, healthy structures, or perhaps a baby tooth did not develop properly. In cases such as these, extraction would be best to preserve your little one's overall oral health.
When your child comes in for his or her tooth extraction, we may offer dental sedation to help your little one feel at ease. Once he or she is relaxed and the tissue surrounding the structure has been numbed, we will gently loosen the tooth and remove it from the oral cavity.
Benefits for a Child's Smile
We care greatly about our patients' smiles and oral health, but sometimes an extraction may be necessary to ensure a healthy, lifelong smile. Indeed, tooth extractions can be used to help correct improper development, protect surrounding teeth and tissues, and even for the purposes of strategic, orthodontic treatment. Additionally, in cases where treatment is not an option, a safe removal can mitigate much of the damage and complications that could develop down the line.
Protecting Their Oral Health
When it comes to tiny grins, oral health is the top priority. Though we would prefer to let baby teeth fall out on their own when the time comes, sometimes a tooth extraction may be recommended to maintain your child's oral health, especially if it means protecting your little one's other oral structures in the process.
Talk to Your Dallas, TX Dentist's Office About Tooth Extraction
With our restorative treatments, we can help address serious issues in little smiles. To schedule an appointment for an exam and cleaning, then contact your Dallas, TX pediatric dentist, Dr. Marr, by calling (214) 321-4880.

filed under: Children's Dental Services