How Sugar Impacts A Child's Smile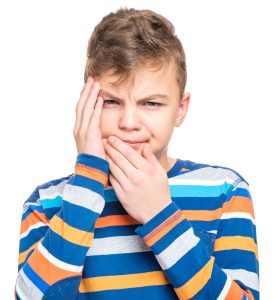 The foods and drinks your children consume could be a major factor in the health of their smiles. In fact, this could lead to an increased risk of tooth decay and dental infection. In today's blog, your Dallas, TX, pediatric dentist will talk about how a healthier diet could help safeguard smiles and stay free of cavities!
Plaque and Tartar Buildup
When children of any age consume foods, snacks, and drinks with high amounts of sugar, this leaves particles clinging to the teeth and stuck between them, or caught along the gum line. As harmful oral bacteria break down these particles, this elevates oral acidity and coats the teeth in plaque buildup. This sticky layer cannot be completely removed with brushing and flossing alone, and hardens over time into tartar. The buildup then weakens the outer enamel and inflames the gums, the results being tooth decay, sore and swollen gums, and for older kids, the risk of gingivitis.
Choosing Healthy Foods and Drinks
To help lower the severity of plaque and safeguard little smiles, try to offer healthier alternatives. Encourage them to drink more water, which cleanses the teeth, and cut back on fruit juice, sodas, energy drinks, or sports drinks, all of which contain sugars and acids. Don't let them nap or fall asleep with a bottle of juice or milk, as this coats the teeth and could increase the risk of cavities. For snacks, offer items like fresh fruits and veggies, whole grain crackers, low-fat yogurt, cheeses, nuts, or even sugar-free gum. They enjoy a snack that doesn't pose a risk to their smile, and also gain important vitamins and minerals.
Be Sure to Brush and Floss
To really help control plaque, you should make sure your children are caring for their smiles properly, along with enjoying a healthier diet. Children need to brush twice daily, just like you, and should do so for at least two minutes. A rice-sized blot or fluoride toothpaste is recommended too, as this helps strengthen outer enamel. As soon as there are teeth sitting next to one another, children should be flossing every evening too. Finally, be sure and make time to see us for a checkup and cleaning visit every six months, so we can watch as your little one's smile grows and changes, and address any oral health issues that arise.
If you have any questions about keeping little smiles healthy and strong, then contact our team today to learn more.
Talk to Your Dallas, TX Dentist's Office About Children's Dentistry
Our team wants to make sure you and your family are making healthy choices for your smile. To schedule a visit for your child's next checkup and cleaning, contact your Dallas, TX pediatric dentist, Dr. Marr, by calling (214) 321-4880.

filed under: Children's Dental Services