Lasers Are Key To Patient Comfort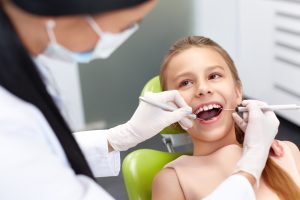 Our team strives to help kids in our community obtain quality care for minor and more extensive oral health issues. To do so, we employ advanced technologies. In addition to digital x-rays and intraoral camera technology, we also implement advanced dental lasers. In today's blog, your Dallas, TX, pediatric dentist talks about the benefits of the Solea system, including less time in the chair and even the chance to undergo treatment without anesthesia or needles!
The Solea Dental Laser System
The laser uses a concentrated beam of light, one especially calibrated to treat both hard and soft tissue applications. We can address areas of concern with greater precision, which prevents damages to health gum or tooth structure. The process offers a number of benefits for little smiles, and we're proud to be able to offer care using the Solea laser!
Possible Treatment Options
Dental lasers have general, cosmetic, and restorative dental applications. We could use the system to remove decayed portions of a tooth with accuracy, offering solutions for cavities and even infected teeth. We also use them to help address minor or severe gum inflammation, helping children with gingivitis. Esthetic benefits could be offered too, as the treatment could remove discoloration and address minor cosmetic issues. This system even helps treat cold and canker sores in one visit! If your child hasn't been to the dentist in several months, consider scheduling a checkup and cleaning. If we find areas of concern, we could often treat them with the Solea system, so your child enjoys a brighter and healthier smile!
Benefits for Our Little Patients
First, the treatment allows us to place fillings and address other issues without the use of anesthesia, which means your kids may be able to undergo treatment without shots or needles! Often, care only needs one visit to finish, which limits how your child has to stay in the chair, and means your child could even return to school afterward, so you don't worry about them falling behind.
If you have any questions about how we use advanced technology to help kids of all ages, or if you would like to schedule a checkup and cleaning for your little one, then contact our team today.
Pediatric Dental Care At Casa Linda Talks About Laser Dentistry
We would like to offer quality, comfortable care for kids of all ages in our community. For more information on the advanced technologies we use to improve your children's oral health, then call our Dallas, TX pediatric dentist's office today at 214-321-4880! We're ready to help children in our community enjoy better oral health, and obtain a better understanding of their smiles and the care needed to keep teeth and gums strong and healthy!

filed under: Children's Dental Services