Calming Children With Dental Sedation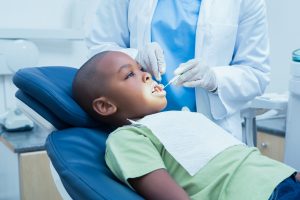 We want to offer care to protect little smiles, and understand that some children have serious anxiety about seeing the dentist. To help calm kids with anxiety, or to ensure those undergoing more serious treatments are comfortable, we may recommend dental sedation. In today's blog, your Dallas, TX, pediatric dentist talks about our calming solutions!
When Children Need a Calming Solution
We may recommend this option for kids undergoing restorative treatments, such as the placement of a restoration or the extraction of a tooth. These solutions help children remain comfortable throughout the process. However, they also assist with kids who have minor or severe dental anxiety, or have special needs that makes undergoing treatment a difficult process for them. The option we prescribe will depend on a number of factors, such as anxiety levels, medical history, age, and more. Our team is trained and experienced in the administration of anesthesia, and ready to help your kids have a good experience in the office, even if they feel a little apprehensive.
Nitrous Oxide
The most common option we recommend for little ones is nitrous oxide, sometimes referred to as laughing gas. This is safe for kids of all ages, and is administered through a mask over the nose. As children inhale the gas, they enter a calm and relaxed state. Once the procedure ends, the effects wear off right away. Some children could even return to school!
Oral and IV Sedation
If your child requires a deeper state of calm, one that could mean little or possibly no memory of the procedure in some cases, we have oral and IV. With oral sedation, we administer this in pill or liquid form prior to the procedure. The effects let them enter a deep state of calm. The effects also take time to wear off, so your child likely won't be able to return to school and will instead need to rest. IV sedation is the deepest form available, and is often reserved for severe anxiety or oral surgical procedures, such as a tooth extraction. The child will likely have no memory of the procedure, and the effects will take time to wear off. If there are any aftercare instructions for recovery, we will provide these.
If you have any questions about our calming agents, or if you would like to schedule a visit for your little one, then contact our team today. We look forward to seeing you!
Talk to Your Dallas, TX Dentist's Office About Sedation Dentistry
We want to make sure all kids enjoy a comfortable and relaxing visit when they see us for treatment. To schedule a visit so your child can undergo a checkup, contact your Dallas, TX pediatric dentist, Dr. Marr, by calling (214) 321-4880.

filed under: Children's Dental Services