Quality Care With Laser Dentistry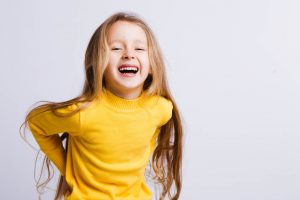 In addition to offering digital x-rays and intraoral cameras as part of a child's treatment, your Dallas, TX, pediatric dentist also uses other advanced technologies. In today's blog, we're going to explain how we use the Solea dental laser to help treat a variety of hard and soft tissue-related problems in little smiles, and the benefits this technology provides for children of all ages.
When We Recommend the Use of a Laser
The Solea laser employs a specially-calibrated and concentrated beam of light to treat a variety of hard and soft tissue problems in a smile. For example, when a tooth is infected, we can use this to remove infected tissues and provide a more conservative alternative to a root canal, known as a pulpotomy. The system could also be used to remove decay for the tooth with greater accuracy and precision, preventing damage to surrounding structures. For children with gum inflammation, we can remove harmful plaque buildup and diseased tissues, reducing inflammation and protecting smiles from issues like gingivitis and gum disease. The system could also be used to break up stains for minor cosmetic improvements, and could even provide relief for cold and canker sores.
Benefits of the Solea Laser
The laser is quiet, and treatment doesn't require the use of a scalpel or any sutures at all. The system also significantly reduces the risk of infection and bleeding following treatment. In fact, kids rarely need anesthesia at all. This is especially great for kids who hate needles or have dental anxiety. Procedures are shorter and in many cases, kids can even return to school afterward! The system provides a number of benefits over traditional treatment options, helping your kids enjoy a more relaxed and comfortable experience at our office.
Scheduling a Checkup
Now that school is about to start, we recommend taking time to schedule a visit with our team. A checkup means your child can start the year with a clean and healthy smile, and that if we discover issues like tooth decay, we have time to offer treatment. A visit every six months helps children of all ages enjoy strong, bright, and healthy smiles. If you have any questions about the use of laser dentistry in our office, or if you would like to schedule your little one's next visit, then please contact our team today. We look forward to hearing from you!
Talk To Your Dallas, TX Pediatric Dentist About Dental Lasers
At our Dallas, TX pediatric dentist's office, we want to offer kids treatment with precision and accuracy using our advanced systems. To find out more about the technology we use to help treat little smiles, please contact your Dallas, TX, pediatric dentist by calling (214) 321-4880.

filed under: Children's Dental Services