Helping Kids Stay Comfortable During A Checkup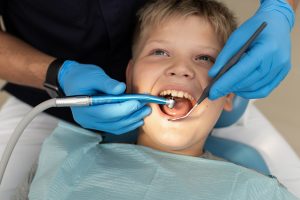 A visit every six months for kids of all ages could help avoid issues like tooth decay and gingivitis. When you bring your little ones in for an exam, we will take steps to ensure your children are comfortable and relaxed, and enjoy their time in the office. In today's blog, your Dallas, TX, pediatric dentist will discuss how we keep kids comfortable during a checkup visit.
Preparing for the Exam
First, we will take time to sit down with your kids and talk to them. We want them to feel like they're being heard, and help them better understand the benefits of an exam and good oral health. Once they're relaxed, we will begin the examination! Studies show that attending these visits could reduce the risk of dental anxiety, and make children more likely to continue seeing the dentist as they grow up.
The Checkup Process
Our team will perform a visual exam, and also take detailed images with digital x-rays and intraoral cameras. These systems make the process much more comfortable, and avoid the use of those unwieldy bitewings. Then images we gather will be available instantly chairside, so our team can make a diagnosis with precision and accuracy. The exam lets us identify issues with the eruption and loss of baby teeth, and allows us to identify impacted permanent teeth and the factors that could lead to misalignment. Our team also watches for signs of tooth decay, dental infection, gingivitis, and issues with bite balance and function. The sooner we diagnose these problems, the sooner we can provide treatment to improve the health and beauty of little smiles!
Cleanings and Fluoride Treatments
During the same sitting, we will also clean the teeth. A dental cleaning means that we use an ultrasonic scaling device and a manual tool to break up and remove all plaque and tartar from the outside of the teeth. Removing this buildup helps fight bad breath and teeth stains, and could also reduce the risk of tooth decay and gingivitis too. To help fight cavities, we will also administer a fluoride varnish. Applied to the surfaces of the teeth, this helps strengthen the outer enamel to fight cavities. We could also discuss the application of dental sealants to the rear teeth too.
If you have any questions about our approach to children's dentistry, or if you would like to schedule a visit, contact our team today.
Your Dallas, TX Pediatric Dentist Offers Exams for Kids of All Ages
At Pediatric Dental Care At Casa Linda, our team knows how to help manage a child's oral health with a routine checkup and cleaning every six months. To find out more about our preventive treatments for kids, please call our Dallas, TX pediatric dental office at 214-321-4880!

filed under: Preventive Treatments