Using A Filling To Treat A Child's Cavity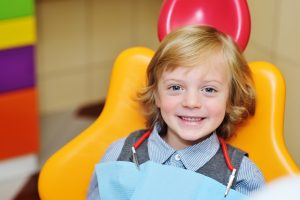 By carefully cleaning their teeth and providing smart meal and snack choices, you can help your kids avoid trouble with cavities. Unfortunately, children can experience difficulties with decay despite your efforts. The good news is that your Dallas, TX pediatric dentist can address this issue while minimizing changes to their appearance and tooth. Our practice uses dental fillings that are made with a synthetic resin substance that can bond with, and imitate, the surrounding enamel. Remember that we are also here to provide ongoing support, which can lead to better oral health and fewer issues with dental decay!
Cavities Can Affect Young Smiles
Once a child's teeth begin to arrive, they are vulnerable to cavities. Unfortunately, there are extra consequences to decay at this point, as it can negatively affect the development of their oral structures. Early decay can lead to the premature loss of primary ("baby") teeth, which can lead to the early arrival of secondary ("adult") teeth. While kids and adults both enjoy protection from the strength of their enamel, kids are still learning about how to care for their teeth. They need assistance so they can develop good oral hygiene habits, and they can require more guidance when it comes to their diet choices.
Using A Lifelike Resin Filling To Protect Your Child's Tooth
In the course of an evaluation, we can determine if your child needs work done to address tooth decay. If so, we can provide timely treatment with composite resin fillings. By using this resin material instead of silver or another metal, we can protect their surrounding enamel without changing the way they look. This lifelike substance is also less sensitive to temperature extremes, and it can actually adhere directly to the tooth for lasting support.
Looking For Ways To Improve Cavity Prevention
How vulnerable is your child to decay? That can depend on several factors, but you can lower their risks when you make preventive dental care a priority. In addition to bringing kids for their regular pediatric dental exams, make a commitment to providing healthy snacks, like fresh fruits and vegetables, and limit their consumption of sugary foods and drinks. Whether your child is still young enough to need assistance with oral hygiene efforts or old enough to clean their own teeth, set a good example with your own routine. This can give them a model to copy, and it helps them see that you take smile care seriously.
Your Dallas, TX Pediatric Dentist Can Restore Your Child's Tooth After A Cavity

At Pediatric Dental Care At Casa Linda, we provide important preventive services to our young patients. The right efforts can keep them safe from decay, but if they do have issues with cavities, we can help! Our composite resin fillings can protect their enamel while also closely matching its appearance, which means they enjoy cosmetic and oral health support. To find out more about how we can take care of your family, please call our Dallas, TX pediatric dental office at 214-321-4880!

filed under: Restorations for Kids