Helping Kids Facing Dental Emergencies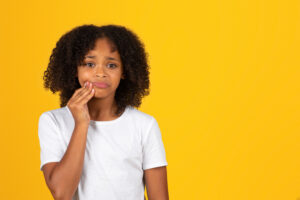 What happens when your child chips a tooth or even knocks one out? When this happens, you need to bring your child in for a visit. In the meantime, you can take actions to ease your little one's initial discomfort! In today's blog, your Dallas, TX, pediatric dentist talks about helping kids when they suffer from a dental emergency.
The Causes of Dental Emergencies
Often a dental emergency can occur due to an accident that injures a tooth, chipping or cracking it. But other emergency situations could include sudden pain in a tooth, something caught between the teeth that floss cannot remove, or a compromised filling or crown, which could become loose or fall out. A tooth being knocked out completely, or knocked loose, is also a situation that requires emergency dental care. When these issues occur, give us a call, even if they happen outside of normal business hours. We will arrange a time to see you quickly, so we can help your child and respond to the injury. Lack of care, even if the damage appears minor, could allow cavities and eventually infection to develop, threatening the stability of the smile!
Easing The Discomfort of a Dental Injury
First, you can use cloth or gauze to control any bleeding, and place a cold compress or ice pack on the side of the face to ease facial swelling. You could can take an over-the-counter and age-appropriate pain reliever too. If the tooth is damaged, try to recover any pieces and bring them with you. But if this isn't possible, don't worry, we can still repair the tooth. If a tooth is knocked out completely, then place it in a glass of salt water or milk and bring it with you to the office. Our team will carefully examine the smile and offer treatment. We can often repair a tooth with composite resin or even a crown, so they avoid complications and enjoy optimal oral health again!
Protecting Little Smiles
To help safeguard little smiles from future injuries, be sure your little one wears an athletic mouthguard when playing full contact sports. Good oral hygiene also protects teeth from issues like tooth decay, which could weaken them and leave them more vulnerable to injuries. To keep an eye out for weakened tooth structure and issues that could threaten little smiles, be sure your little one attends checkup and cleaning visits every six months, so we can ensure they have a strong and healthy smile, and address any issues that arrive quickly, such as tooth decay or an infected tooth.
Schedule an Appointment for Emergency Treatments
Don't let the injuries and the discomfort of a dental emergencies lead to issues with the health of your child's smile. Contact your Dallas, TX pediatric dentist, Dr. Marr, by calling (214) 321-4880.

filed under: Dental Emergencies