We Offer Emergency Care For Your Kids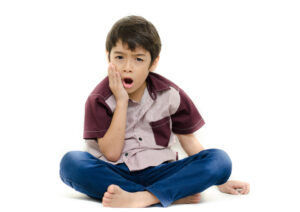 Sometimes, despite our best efforts, accidents happen. Your little one could end up with a chipped or cracked tooth. Now what? Well, we can offer emergency dental care to address these injuries and protect teeth from complications. In today's blog, your Dallas, TX, pediatric dentist talks about our emergency dental services!
Common Dental Emergencies
A dental emergency refers to any injury or discomfort related to the teeth and gums that is a potential life-threatening issue. For some, this could include a cracked or chipped tooth, or one that is knocked loose or out completely. Swelling and discomfort is cause for concern, as is a loose or lost filling or crown. When these issues occur, don't delay and let us know as soon as possible. Our team can arrange for a time to see us for care, and we even offer same-day appointments during the week. Treatment helps prevent complications, such as tooth decay and infection, which could cause worsening pain and risk the stability of the tooth! For kids, losing a tooth prematurely is a recipe for dental misalignment and other serious concerns.
When We Can See You
You can call our team to schedule a same-day dental emergency visit on Monday, Tuesday, and Wednesday. If your child's injury is potentially life threatening, then call 911 or proceed to the nearest emergency room.
Easing Your Child's Discomfort
Before you see us, you can take steps to help ease your child's discomfort. If they have pain or damage, have them rinse with warm water. Use cloth or gauze to stem the bleeding, and a cold compress to control facial swelling. If something is caught between your teeth, then use floss to try and dislodge it, and see us if this fails. If a tooth is knocked out, then pick it up by the crown, never touch the root, and place it in a glass of salt water or milk and bring it with you. The container should be sealed. If a tooth is broken, be sure you bring any recoverable pieces with you as well. Your little one can also take an age-appropriate over-the-counter pain reliever as well.
If you have any questions about our approach to emergency dental care, or about our same-day appointments, then contact our team today to learn more. Our team wants to help little smiles remain strong and healthy, and free of major complications related to dental emergency situations!
Your Dallas, TX, Pediatric Dentist Provides Emergency Dental Care
If you have questions about safeguarding little smiles, or if you would like to schedule an appointment for your child, then we invite you to contact your Dallas, TX pediatric dentist, Dr. Marr, by calling (214) 321-4880.

filed under: Dental Emergencies