When Children Need IV Sedation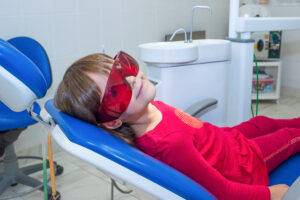 When children have special needs, or if they need to undergo more intensive treatments, such as tooth extraction, then a calming solution is needed to make care possible. Along with common options like nitrous oxide, we can also help children with IV sedation. In today's blog, your Dallas, TX, pediatric dentist talks about IV sedation.
Situations That Call for IV Sedation
IV sedation is administered intravenously, and is the deepest form of calming we have available. We could recommend this for more extensive treatments, such as tooth extraction. We also use this to help those with severe dental anxiety or special needs that make undergoing care a difficult process. This ensures all kids, no matter their circumstances, can receive minor or extensive treatment as needed to improve the health, beauty, and function of your little one's smile. Since kids could be a bit groggy afterward, they will need to go home and likely cannot go back to school afterward. We will provide any necessary aftercare instructions as well.
Monitoring Your Child
We have trained and board-certified anesthesiologists on our team, who are also members of the Pediatric Dental Anesthesia Associates. If a treatment involves the use of sedation, they will be there to monitor your child and follow specific protocols and guidelines throughout the process. The option we recommend for your child will depend on his or her age, weight, medical history, dental history, and anxiety levels.
Nitrous Oxide and Oral Sedation
While IV is the deepest form available, we also have other options as well. The most common is nitrous oxide, which is administered through a mask over the nose. The patient inhales a special gas, and enters a calm state that ends as soon as the procedure does. In many cases, kids can even return to school afterward. Oral sedation is the level in between nitrous oxide and IV, and is offered through a pill or liquid prior to the procedure. Kids enter a deeper state of calm, but the effects take time to wear off, so they likely won't return to school afterward.
Now is a great time to bring your little one in for a simple checkup and cleaning, so we can assess the state of their smiles and find out if treatment is necessary to avoid the impact of tooth decay, gingivitis, or other common children's issues.
Your Dallas, TX, Pediatric Dentist Provides Calming Solutions for Kids
We have the skills and experience to help your kids enjoy their time in the office, or if you would like to schedule an appointment for our children's treatment options, then we invite you to contact your Dallas, TX pediatric dentist, Dr. Marr, by calling (214) 321-4880.

filed under: Restorations for Kids