A Look At Our Comprehensive Treatments For Little Smiles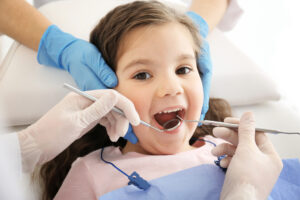 Our practice is proud to offer a comprehensive approach to children's dentistry, helping kids of all ages maintain strong and healthy smiles. These include preventive treatments to avoid cavities, or restorations to repair teeth as needed. In today's blog, your Dallas, TX, pediatric dentist talks about our approach to pediatric dentistry.
Checkups and Cleanings
One way to start your kids on a path to a healthier smile is with a simple checkup and cleaning visit. We recommend one every six months for kids two and older. The checkup means we conduct an exam with advanced imaging technology, so we can diagnose the presence of trouble and offer treatment to protect smiles from tooth decay. These visits also help our team instill good oral health habits, and regular appointments mean your children become accustomed to seeing the dentist, so they feel calmer and more relaxed.
We also offer dental cleanings for children in the same visit. The cleaning means we use an ultrasonic scaling device and a manual pick to gently and thoroughly remove all plaque and tartar from the surface of the teeth. Removing this buildup helps fight bad breath and teeth stains, and reduces the risk of cavities and even issues like gingivitis.
Fluoride and Dental Sealants
During your child's checkup and cleaning visits, our team can also discuss preventive treatments to help lower the risk of developing cavities. For example, we can use fluoride treatments to strengthen the outer enamel and lower the chances of tooth decay. This is applied to the teeth in a topical gel form. Our team could also apply dental sealants to safeguard the teeth too. These are special acrylic layers we add to the molars, which sit in the back of the mouth. These are often difficult for kids to reach when brushing and flossing, but the sealants keep food particles from becoming stuck between them, lowering the risk of cavities. They can also last for up to ten years in some cases!
Fillings
What if your child has an aching tooth due to a cavity? We can offer relief by treating the tooth with a dental filling. Placement only takes one visit, and we will use a metal free material that is safe for all ages. Composite resin is durable and strong, and can be shaded to blend with the rest of the tooth's structure, so your little one can smile with confidence again and avoid the painful complications of untreated tooth decay, including infections and the risk of premature tooth loss!
Crowns
When we see children with a more advanced stage of tooth decay, cracked or chipped teeth, or an infection, we could treat the tooth with a dental crown. This is a restoration that fits over the tooth and covers the visible portion. For the side and rear teeth, we may create them from stainless steel, as these are durable and able to handle daily bite forces and pressure. In addition, our team could use NuSmile zirconia to place a crown that looks more natural and better blends with the smile.
Pulpotomy
When a tooth is infected, we could offer a conservative alternative to the root canal with a pulpotomy. The procedure involves opening the tooth and gently removing the infected portions of the inner structure, and then adding a special medicated filling material. We may also cap the tooth with a crown. This prevents the infection from spreading or leading to missing teeth, and spares your child from serious discomfort.
Tooth Extraction
Sometimes a tooth cannot be treated with a restoration, and leaving it in place could lead to serious complications. To protect the smile, we may need to extract the tooth. We could recommend this to make room for orthicon treatment, improve bite balance and chewing function, address severe decay or infection, and for older kids, prevent wisdom tooth impaction.
Dental Sedation
We always want our little patients to feel relaxed and comfortable, even when undergoing more extensive treatments like tooth extraction. Which is why we offer dental sedation to help kids remain calm and relaxed when receiving treatment, even if they have serious dental anxiety.
If you have any questions about our treatment options for little smiles, then contact our team today to learn more.
Does Your Child Need a Checkup and Cleaning?
If you want to find out more about our approach to children's dentistry, or if you would like to schedule an appointment for your little one, we invite you to contact your Dallas, TX pediatric dentist, Dr. Marr, by calling (214) 321-4880.

filed under: Children's Dental Services