Pediatric Smile Care For 2023—And Beyond!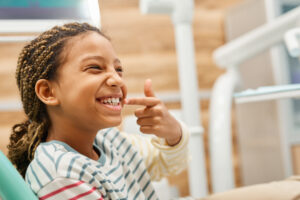 The holiday season can be a busy and exciting time for your little ones. Between travel, family gatherings, and the sharing of seasonal treats, there can be much for them to look forward to, but there can also be more risks for their oral health. During this time, it is important that you help them keep their teeth safe from the threat of decay. You should also see to it that they have their next dental checkup scheduled. Booking smile care with your Dallas, TX pediatric dentist at the start of the new year can ensure their teeth are in good condition after the holiday season, and it can help them start 2023 healthy and happy! 
Are Your Kids Up To Date With Their Dental Visits?
A person's smile health matters to their appearance and general well-being throughout their life. In our earliest years, professional dental care can provide protection as our teeth and oral structures are developing. Our practice can offer updates about the development of your little one's smile, and we can provide guidance to them and you regarding the maintenance of their teeth and gums as they age. Whether you have a new family member who is ready for their first visual exam or older children who need to stay safe against oral health threats, routine pediatric dental appointments provide important benefits.
Planning Important Oral Health Checkups For The New Year
Whether your kids are past due for dental reviews or need to have their next routine appointments set, we can help make sure their new year starts with healthy teeth. The examinations and cleanings that take place both play vital roles in protection for growing smiles. A review will look out for problems that affect patients at every age, like the onset of a cavity or poor gum health, while a cleaning will remove harmful plaque and tartar to prevent new problems from arising. 
In addition to these services, we use imaging technology and close inspections to monitor growth and development, so we can watch out for early warning signs of issues that could affect your child's smile. Whether this leads to the discovery or a common concern like malocclusion or something more serious, we can see to it that the right plan is in place to resolve the matter.
Talk To Our Dallas, TX Pediatric Dentist's Office About Booking Smile Care For Your Child!
The start of the new year is a great time to book pediatric dental care. An appointment at the start of 2023 can lead to prompt care for problems that may have formed over the holiday season and offer protection through a thorough cleaning. To make sure your kids have their next visits planned, contact your Dallas, TX pediatric dentist, Dr. Marr, by calling (214) 321-4880.

filed under: Children's Dental Services, General Dentistry