The 12 Days Of Christmas Begins!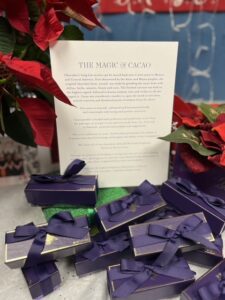 At Pediatric Dental Care at Casa Linda, we have an annual holiday tradition. For the 12 days of Christmas, we give one of our team members a special gift each day to thank them for everything they do to help our practice thrive! This year the theme is Dr. Marr's favorite things, including gifts from companies led by women who use their success to help the community and the environment! In today's blog, your Dallas, TX, pediatric dentist is taking a look at the story behind three amazing companies we'll be gifting from!
Vosges Haut-Chocolat
For the first day of Christmas, we'll be giving the gift of Vosges Haut-Chocolat, a Chicago-based chocolate company founded by Katrina Markoff. After an apprenticeship with the renowned restaurant El Bulli, Katrina traveled the world and eventually returned to America with a vision for creating chocolates that could tell stories and offer amazing flavors that show appreciation for diverse cultures from around the world.
Beautycounter
Beautycounter is well known for safe and ethical beauty products, and for the 3rd, 4th, and 5th day of Christmas, we'll be gifting our team members lip gloss, body sugar scrub, and hand lotion products from them! We love this company because they strive to create incredible beauty products that are clean and free of the harmful ingredients often found in other beauty products elsewhere.
Kendra Scott
For the 6th and 7th day of Christmas, we'll be gifting one of our team members earrings and a necklace from Kendra Scott. Founded in 2002, Kendra Scott provides high-quality and affordable jewelry that uses natural gemstones. They also use proceeds from their business to back several charities that help women and children around the world.
See Us Soon!
You'll start to see our 12 Days of Christmas posts tomorrow through the 23rd, so keep an eye on our Facebook and Instagram pages! In addition, there is still time to schedule a visit for your child, so he or she can greet 2023 with a bright and healthy smile. You can also use your 2022 dental benefits before they expire at the end of the year. Give us a call to schedule your child's next checkup and cleaning visit, and to discuss preventive treatments to protect little smiles, such as fluoride treatments and dental sealants. If you have any questions about our approach to children's dentistry, or about helping your kids enjoy better oral health during the holiday season, then contact our team today.
Do You Have Any Questions?
We would love to help your children start 2023 with healthy smiles, or if you would like to schedule an appointment, we invite you to contact your Dallas, TX pediatric dentist, Dr. Marr, by calling (214) 321-4880.

filed under: Community Events