How We Place A Child's Dental Crown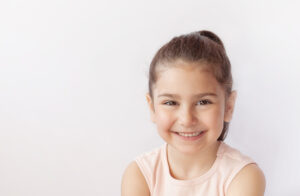 When a child has a cavity, we usually offer treatment with a dental filling. But for a more advanced stage of tooth decay, or a dental infection, our team could create and secure a dental crown. In today's blog, your Dallas, TX, pediatric dentist talks about how we help little smiles with a dental restoration.
When a Child Needs a Restoration
When do we place a crown on a child's smile? Since the restoration covers the entire visible portion of a tooth, we can use them to address a number of restorative issues. For example, we can address more severe tooth decay, or following a pulpotomy for an infection, we could cap the tooth to protect it. Placement could repair chipped and cracked teeth, and also correct misshapen ones as well. Placement could help improve overall bite balance and correct chewing dysfunction too.
The Materials We Use
We take a number of factors into account when choosing the material we create them with. For the more visible front facing teeth, we may use zirconia, which is very strong and made from a white material that better blends with the smile. For the side and rear teeth, which tend to absorb greater bite forces and pressures, our team could instead use stainless steel.
Creating and Placing a Dental Crown
To begin, our team will plan the process by taking detailed digital images of the tooth. We then numb the area and remove structure from it. The restoration is attached to the prepared tooth with a powerful bonding agent, which can keep it in place for years to come. Remember, even if the baby teeth will eventually fall out, this could occur months or even years after decay or infection develop, so waiting for the tooth to fall out could increase the risk of serious discomfort and even the spread of infection to other teeth.
If your child has issues with the shape of a tooth, or has sustains damage or complains about a toothache, the let us know right away. You can schedule a checkup and cleaning so we can monitor the smile and address any concerns we discover. Routine care helps your kids enjoy strong and healthy smiles, and also gain a better understanding of their oral health and what actions they need to take at home to keep smiles bright and healthy. If you have any questions about our restorations, or the need for routine preventive visits, then contact our team today.
Your Dallas, TX, Dentist Offers Custom Restorations
We would like to help your kids maintain their best smile! If you have any questions about treating issues like tooth decay or dental infection, then contact your Dallas, TX pediatric dentist, Dr. Marr, by calling (214) 321-4880.

filed under: Restorations for Kids