What Crowns Do Kids Need?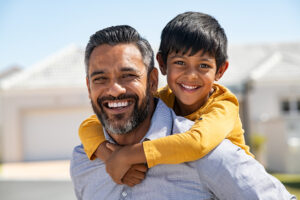 A dental crown is a complete restoration that covers the entire visible portion of the tooth, improving overall oral health and preventing major complications. We can provide different options for kids depending on what their smiles need. In today's blog, your Dallas, TX, pediatric dentist talks about dental crowns for kids!
When Teeth Need Restoration
We may prescribe one for children with cavities too advanced to be treated with a dental filling. Our team can also repair cracked or chipped teeth and add length to worn-down teeth too. The restoration could also help improve bite balance for children, and correct issues with chewing function too. Since the restoration covers the entire visible portion of a tooth, all the structure above the gum line, they can address an array of cosmetic and restorative concerns, improving function, beauty, and oral health.
Stainless Steel and Zirconia
What will they be made of? For the rear teeth, which tend to endure greater bite forces and pressures, we may opt for stainless steel, a very strong and durable option. The teeth closer to the front of the mouth are more visible, so we tend to opt for zirconia. This material is white and offers a more natural appearance, but is still durable enough to handle daily bite forces and pressure. After all, we want these restorations to last for years to come, and to provide quality restoration and repair for little smiles.
Placement
How do we place them? First, we will numb the area around the tooth and for anxious children, we can also discuss various sedation options to help them feel calm and relaxed during the procedure. We then remove structure from the tooth to make room for the crown. We attach the restation with a powerful bonding agent, which ensures it can stay in place for years to come.
Checkups and Cleanings
If your child hasn't seen the dentist lately, consider scheduling an appointment with our team. Now is a great time to see us, as your children can obtain a checkup and cleaning, and undergo filling or crown placement, if necessary, before the new school year starts. This way they're ready for school and don't have to miss classes or extracurricular activities for their preventive visits and treatments. We can also provide protective options like fluoride gel and dental sealants to lower the risk of cavities forming during the coming months.
If you have any questions, then give us a call today!
Make an Appointment with Your Child's Dallas, TX, Dentist Today!
Our team is here to help kids avoid major oral health issues with custom dental restoration. If you have any questions about how we safeguard little smiles, then contact your Dallas, TX pediatric dentist, Dr. Marr, by calling (214) 321-4880.

filed under: Restorations for Kids