Schedule Your Child's Back To School Visit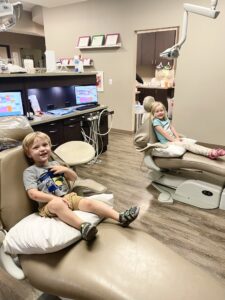 Pretty soon, kids across the country will be returning to school! Which is why you should consider bringing your child in for a checkup and cleaning visit. Like these little patients, your children can start the school year with a healthier smile! In today's blog, your Dallas, TX, pediatric dentist talks about children's back to school visits.
School is Starting Soon!
For some, school is starting in the middle of August. Which means now is the time many families are shopping for supplies and getting ready. As part of that process, schedule a visit with our team! A checkup means we carefully examine your child's smile and then if we find any areas of concern, we can offer treatment. When the new school year starts, your kids will have a stronger and healthier smile. They then don't have to miss classes to undergo treatment or routine examinations too. Our team can also discuss good oral health and snack habits too.
Checkups and Cleanings
With the checkup, we will employ advanced digital x-rays and intraoral cameras to carefully examine the smile with precision and accuracy, offering a thorough diagnosis. In the same appointment, we will also clean the teeth. Using an ultrasonic scaling device and a manual pick, our team will gently and carefully remove all plaque and tartar from the outside of the teeth. The cleaning not only fights bad breath and teeth stains, but also lowers your child's risk of tooth decay and gingivitis.
Fillings and Preventive Treatments
What if we discover a cavity? If so, our team can use a lifelike composite resin filling. This can be placed in one appointment, and is safe for kids of all ages. The material will blend with the smile much easier than metal options too. Our team can also discuss preventive treatments to help lower the risk of cavities and strengthen the smile's defenses. Fluoride treatments can be applied in a gel form, and help fortify the outer enamel to lower the risk of cavities. We could also apply dental sealants. These are a thin layer of plastic that coats the rear molars, which are most difficult for kids to reach when they brush and floss. These stay in place for years, as much as ten in some cases. As they wear away gradually, they cling to the more vulnerable parts of the tooth structure the longest.
If you have any questions, then contact our team today to learn more.
Talk to Your Child's Dallas, TX, Dentist Today!
We want to help prepare your child to start the new school year with a healthy smile. If you have any questions about children's dentistry, then contact your Dallas, TX pediatric dentist, Dr. Marr, by calling (214) 321-4880.

filed under: Children's Dental Services