Treating Infected Teeth With A Pulpotomy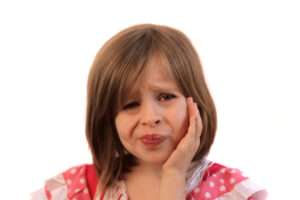 When a cavity isn't treated in time, the decay could eventually lead to an infection. Discomfort worsens, and the risk of tooth loss increases as well. But to save the tooth and bring relief, your Dallas, TX, pediatric dentist could treat your child's infected tooth with a root canal alternative known as a pulpotomy.
How Infected Teeth Harm Little Smiles
At the center of your child's teeth is a collection of tissues that keep the teeth healthy and functional, controlling the flow of blood and nutrients to and from the teeth. An infection means that harmful bacteria has made contact with the pulp. This could happen due to an untreated cavity, or possibly even a severely damaged tooth. When a child has an infected tooth, he or she could experience tooth sensitivity, toothaches, pain when they eat, swelling near the tooth, or in some cases, a discharge from it. When these symptoms arise, let us know right away.
The Pulpotomy Treatment
We'll start by carefully examining the tooth with digital x-rays, so we can see the severity of the infection and plan the treatment with precision and accuracy. Using a local anesthetic and possibly sedation, we will ensure your child is calm and relaxed throughout the procedure. The pulpotomy begins when the tooth is opened so we can remove the infected portions of the tissues. We then add a special restorative filling material. The tooth is then capped with a crown. We may use stainless steel for the rear teeth, which endure greater bite forces, or a white zirconia crown for the more visible ones. This helps prevent the infection from causing a prematurely lost tooth, a complication that could increase the risk of dental misalignment down the road. They also enjoy immediate relief from discomfort, and usually return to normal activities after the sedation wears off.
Preventing Future Decay or Infection
We would also love to help you and your family reduce your risk of tooth decay and infection in the future. This involves brushing teeth twice a day for two minutes, and always with a fluoride toothpaste. Every one needs to floss in the evening as well. We urge you to bring your children in for checkups and cleanings every six months, and at home to cut back on foods and drinks high in sugar. These actions help keep issues like cavities and infection at bay, so everyone can smile with confidence! If you have any further questions, then give us a call today.
We Can Treat Your Child's Cavity
We would like to help your children maintain healthy and comfortable smiles. If you have any questions about our restorative dental treatments, then contact your Dallas, TX pediatric dentist, Dr. Marr, by calling (214) 321-4880.

filed under: Restorations for Kids