How Sugar Harms Little Smiles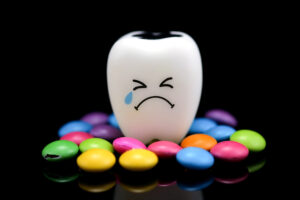 Kids love sugar, and adults do too! But for little smiles, too many sweets could lead to tooth decay. The problem is, there are also many supposedly healthy snacks and drinks that are also high in sugar. In today's blog, your Dallas, TX, pediatric dentist talks about protecting children from the onset of cavities.
The Impact on Their Smiles
When children eat foods and consume drinks with a lot of sugar, this leaves particles behind on and between the teeth. Harmful oral bacteria will then break down these particles, a process that causes a rise in oral acidity and coats the teeth in plaque buildup. Plaque hardens into tartar and cannot be removed with brushing and flossing along, but also weakens the outer enamel and irritates gum tissues. Your children not only have an increased risk of tooth decay and gingivitis, but bad breath and stained teeth too!
Better Home Habits
At home, try to avoid sodas and energy drinks, as they have high amounts of sugars. This is also found in sports drinks, which combined with the dry mouth that follows exercise and activity, could make decay more likely. Encourage your kids to drink more water and follow sodas and other beverages with a glass of water to cleanse the smile. You should be aware of fruit juices. While fresh fruit does have sugar, it also has a high-water content that helps rinse these particles away. Juices don't have this, and could leave little smiles vulnerable.
As far as snacks, encourage fresh fruits and vegetables, whole grain breads, cheeses, and nuts. Snack cakes, candy, and chips contain sugars and acids that cling to the teeth. Dried fruit is also potentially harmful, as this deprives the fruit of the water content that prevents harmful ingredients from adhering to the teeth.
Brushing and Flossing
At home, your children should brush and floss daily. This removes particles, before bacteria can consume them, and also limit's the severity of plaque and tartar until the next dental cleaning visit, when we remove the buildup completely. Kids should brush twice a day, with kids three and younger using a rice-sized amount of fluoride in toothpaste, and kids over three using a pea-sized blot. Kids also need to floss every evening before bed as well. If you have any questions, or if you want to schedule a visit, then call our team today.
Your Dallas, TX, Pediatric Dentist Talks About Oral Hygiene
Our team is ready to help you and your children on the path toward healthier smiles. If you would like to find out how to help safeguard your child's smile, then contact your Dallas, TX pediatric dentist, Dr. Marr, by calling (214) 321-4880. We want to help kids of all ages enjoy better oral health and brighter smiles!

filed under: Preventive Treatments