Should Your Child Receive Dental Sealants?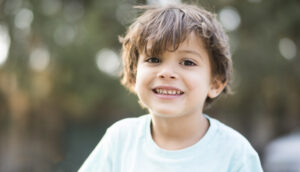 Have you ever heard of dental sealants? These are a unique preventive treatment our team employs to help lower the risk of tooth decay in little smiles. In today's blog, your Dallas, TX, pediatric dentist talks about when a child's smile may benefit from them, and how we place them!
Protecting Little Smiles
Children are just as susceptible to cavities as adults, perhaps more so. After all, young children often have limited dexterity, which can make thorough brushing and flossing difficult, and allow food particles to stay trapped between the teeth. They're also more likely to binge on candy and other sweets. For some families, the issue could even be related to lying down for a nap or sleep with a bottle or sippy cup of juice or milk, which coats the teeth in sugars and makes cavities more likely, even in the first year or two! However, we have a unique preventive treatment that could help.
Placing Your Dental Sealants
To begin, we will gently dry the molars in the rear of the mouth, and then apply a plastic coating on them. This layer prevents food from becoming stuck on or between the teeth. Since there is no contact between food particles and the teeth, the risk of plaque buildup, weakened enamel, and inflamed gums is decreased significantly. Even if your children are unable to properly clean these rear teeth, their smiles remain healthy and enjoy a reduced risk of cavities. The sealants will stray in place for between five and ten years on average, and don't require removal as they wear away naturally with time. If needed, we can also re-apply in future visits.
Fluoride Varnish
Dental sealants are not the only preventive retreatment option we have. During each checkup and cleaning, our team will also apply a special fluoride varnish to the teeth. Fluoride is a naturally-occurring mineral, one that has been shown to improve the strength of outer enamel and lower the risk of cavities. That's why many communities have added into the drinking water, as this has been shown to significantly decrease cavities in people of all ages.
If you have any questions about these treatments, or if you would like to schedule a visit for your child, then please do so today! We would love to see your little one before the year ends, and help them enjoy strong and healthy smiles in 2022. Remember, if you have dental insurance, now is a great time to use your remaining 2021 benefits before they expire.
Talk to Your Dallas, TX Dentist's Office About Preventive Care
Our team is ready to help protect little smiles of ages from tooth decay. To find out if your child benefits from our preventive treatment options, then contact your Dallas, TX pediatric dentist, Dr. Marr, by calling (214) 321-4880.

filed under: Preventive Treatments