Our Service Event For FMSC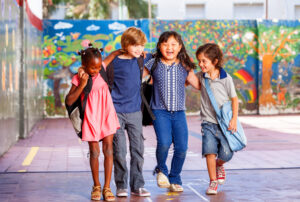 Soon, we will be hosting a special service event to support the incredible organization, Feed My Starving Children (FMSC). This group is working hard to bring meals to children who would otherwise go hungry, helping communities around the world. In today's blog, your Dallas, TX, pediatric dentist is going to talk about helping this group, and how you can help too!
Feed My Starving Children (FMSC)
FMSC is a nonprofit Christian organization that strives to help distribute food worldwide to communities and children in need. But they don't simply drop off necessary donations, they remain connected with the community to aid in development and growth. In addition, the meals provided have been specially designed by food and nutrition scientists to provide essential vitamins and nutrients, which helps fight malnutrition and allows children to grow and thrive, reaching their full potential. This group has done incredible work to help communities in need and maintains a connection with them. Which is why we're so proud to be hosting a service event to support them!
You can Support Them Too!
If you would like to join us in supporting such a wonderful organization, you can donate to them! Unlike other groups, who may spend a substantial amount of donation dollars on advertising and salaries, 86% of what FMSC raises will go towards meal production and distribution, and each meal itself only costs about 25 cents, so even a small donation goes a long way. The group has also won multiple awards for their trustworthiness and integrity. When you support them, you help ensure a child in need receives food!
Use Your Benefits
If you have any questions about our event or about our support for this organization, feel free to contact our team today! We would also like to remind you that the end of the year is fast approaching, so time is limited to use your dental insurance benefits before they expire. Schedule a visit today for your child, and help him or her start 2022 with a healthier smile! We start with a thorough checkup, and then we create a treatment plan that fits your budget and schedule. We can also help you understand what coverage and benefits you have available to use. A visit now also means a chance to undergo treatment before the hectic holiday season impacts your schedule. So, give us a call at the number below. We look forward to hearing from you!
Talk to Your Dallas, TX Dentist's Office About Our Upcoming Event
We're happy to help your children enjoy better oral health, and to support other organizations that help kids too! To schedule a visit with and help your children end 2021 with a healthier smile, then contact your Dallas, TX pediatric dentist, Dr. Marr, by calling (214) 321-4880.

filed under: Community Events