We Can Offer Children Lifelike Crowns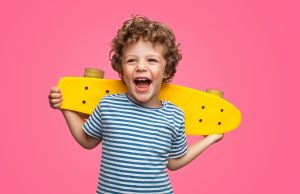 When a filling isn't enough to bring relief or repair to a smile, then a crown may be needed. In today's blog, your Dallas, TX, pediatric dentist will discuss when a child needs a dental crown, and how our white crowns can offer a more natural appearance! A lifelike repair and better oral health are possible with our restorations.
When Little Smiles Need One
Since the restoration covers the entirety of a tooth's outer structure, we may recommend them to address cases of tooth decay too severe for a filling, or to complete a pulpotomy for infected teeth. We repair cracked or chipped teeth, and can help correct bite imbalance to improve bite function. The restoration also helps improve misshapen or malformed teeth too. We want to ensure that your child us able to eat without difficulty, and that we can address serious oral health issues before they impact the overall stability of the smile!
Lifelike Materials
For the rear teeth, which endure greater bite forces and pressure, we opt for the stainless-steel dental crown. However, we also have one that is crafted with NuSmile Zirconia, a very strong material that absorbs daily bite forces with ease, but also has the ability to blend with the rest of your child's smile. The results are a lifelike appearance that makes your little one feel confident and comfortable showing off his or her newly repaired smile.
Creation and Placement
To begin, we will administer sedation to help your little one enter a calm and relaxed state. Next, we need to make room for the dental crown by removing structure from the tooth gently and carefully. The dental crown is then attached to the prepared tooth with a powerful bonding agent, which ensures stability and a long-lasting restoration.
Reducing the Need for Repair
To help prevent the need for them, make sure your little one wears a mouthguard when playing sports. Also, make sure your children brush and floss daily, and also see us every six months for a checkup and cleaning visits. Routine care helps lower the risks of issues like tooth decay and dental infection. If you have any questions about how we repair little smiles, or if your child needs to have a checkup and cleaning visit, then give our team a call today.
Pediatric Dental Care At Casa Linda Talks About Dental Crowns
We want to employ our restorations to protect smiles and improve bite function. For more information on our restorations and how they help little smiles, then call our Dallas, TX pediatric dentist's office today at 214-321-4880! Our team is ready to help children of all ages enjoy optimal oral health, and to better understand the importance of caring for their smiles!

filed under: Restorations for Kids