Using Sedation To Help Anxious Kids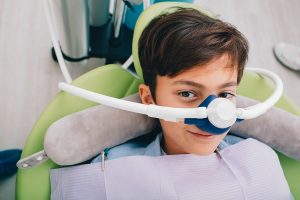 If your child has dental anxiety or special needs, even minor preventive treatments could be a difficult experience for them. To ensure their fears don't stand between them and better oral health, we may recommend the use of dental sedation. In today's blog, your Dallas, TX, pediatric dentist discusses our different options to ensure your kids stay comfortable!
Dental Anxiety
Children could have anxiety about visiting the dentist for a number of reasons, including bad previous experiences or even a lack of experience undergoing treatment. We understand, and our team knows how to talk to kids and help them feel welcomed and relaxed. In fact, we strive to ensure they enjoy each visit, and look forward to seeing us again! But we also know that sometimes children benefit from sedation to help them enter a calm and relaxed state. We have a number of options available, and the one we prescribe will depend on your child's medical history, current health, and anxiety levels. We don't want your child's discomfort or fears to stand between them and a healthy smile, instead we want to help them stay comfortable!
Our Sedation Options
For many kids, we could recommend nitrous oxide, also known as laughing gas. The gas is administered through a mask over the nose, and helps patients enter a deep state of relaxation. Patients feel very calm and the effects wear off once the procedure ends. Kids could even return to school! For a deeper state of relaxation, oral sedation could be administered in pill or liquid form prior to the procedure. The effects will take time to wear off once the procedure ends. For the deepest option available, we could offer IV sedation. Administered through an IV, a trained pediatric anesthesiologist will be one hand to monitor your child throughout the entire procedure. The effects again will take a little time to wear off, but children will have little to no memory of the procedure at all.
If you have any questions about these options or about how they can help children of all ages, then please contact our team today. We would love to see your child for a checkup before the new school year starts and your schedules become a bit more hectic.
Talk To Your Dallas, TX Pediatric Dentist About Dental Sedation
At our Dallas, TX pediatric dentist's office always strives to ensure kids enjoy their time in the office, and come away with a better understanding of their smile. To find out more about how we ensure your little ones feel calm and comfortable, please contact your Dallas, TX, pediatric dentist by calling (214) 321-4880. We provide quality care for children of all ages in our community.

filed under: Family Dentistry